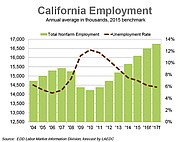 The U.S. economy is expected to chug along nicely at a 2.5 percent annual increase over the next two years as unemployment continues to decline and wallets get fatter with modest wage hikes.
On the local front, California's economy should advance at a faster clip than the rest of the nation with growth averaging about 3.1 percent in 2016.
"The current expansion has several miles to go," said Robert Kleinhenz, chief economist for the Los Angeles County Economic Development Corp., which released its "2016–2017 Economic Forecast & Industry Outlook" on Feb. 17.
Economic growth is predicted for the next two years despite the gloom and doom in the up-and-down stock markets, tumbling oil prices and China's skittish economy.
"We usually do not import recessions. So a weak economy around the globe is not necessarily a cause of a recession in the United States," Kleinhenz said.
In the United States, consumers have been the main contributors to the nation's steady economic growth as spending by shoppers inched up 3.1 percent in 2015 over the previous year. While clothing purchases rose a bit, major gains were seen in the auto industry, which in 2015 experienced one of its best years ever.
Last year, 17.8 million cars were sold, matching the record set in 2000. Record-tying vehicle sales triggered an 11.9 percent year-over-year increase in auto loans, while student-loan balances rose by 6.8 percent in 2015 over the previous years.
Consumers are also pulling out the plastic more to make purchases as credit-card balances rose 5 percent in the third quarter of 2015 compared with the same period a year earlier. Still, that was 20 percent below the peak before the recession started in 2008.
"The consumer sector will be healthy in 2016 and make a significant contribution to GDP growth this year," Kleinhenz observed.
Still, inventory levels in many industries are higher than normal, and it will take six months of the year to dig out from overloaded warehouse shelves and store racks.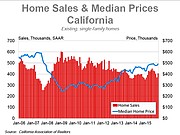 Golden State
California is one of the largest economies in the world, shaped by a variety of industries—from technology, aerospace and entertainment to healthcare, agriculture and apparel manufacturing. Last year, the state's economy inched up 3.9 percent compared with the U.S. rate of 2.4 percent.
California received more venture capital funds in 2015 than all 49 other states combined—$33.5 billion versus $24.2 billion for the rest of the country.
Just about every business sector in the state added jobs, except those associated with off-shore oil rigs and oil fracking as well as non-durable goods manufacturing.
Technology employment in California exceeded 1.12 million workers in 2015, rushing past the previous peak of 1.06 million seen in 2014. Nearly half of the new technology jobs created in 2015 were in computer-systems design with management and consulting jobs the second-largest job category added.
California is the nation's leading producer of fruits, vegetables, nuts and dairy products with the highest-value commodities being milk, grapes, almonds and nursery plants.
Agricultural products are also one of California's largest exports to the rest of the world. But already the slowing of China's economy has resulted in a drop in demand for California almonds, dairy products and wine.
The number of farm workers in the state totaled 417,000 in 2015, which was 0.1 percent lower than in 2014.
Despite fewer workers in the sector, agricultural output in California increased by an estimated 2.9 percent in 2015 accounting for about 1.1 percent of the state's gross product.
On the international trade front, California is the second-largest goods-exporting state in the country, right behind Texas, which depends heavily on shipping energy-related products.
California's largest export categories by value are computer products, transportation equipment that is mainly aerospace-related, machinery, agricultural products and pharmaceuticals.
Global trade slowed sharply in 2015. Last year, statewide two-way trade was down 4.5 percent to $581 billion after reaching a record-setting $608 billion in 2014.
Even though manufacturing in the state dipped as U.S. exports declined due to a slowdown in other countries, the apparel manufacturing industry in Los Angeles County added 700 jobs in 2015, going from 44,400 people employed in cut-and-sew factories to 45,100. That was a 1.5 percent rise while other manufacturing sectors showed weakness.
Employment in the computer and electronics manufacturing sector in Los Angeles County took a 2.2 percent tumble, employing 38,000 people. The county's aerospace industry also showed weakness last year with a 2.7 percent decline in employment. The food manufacturing sector was relatively flat.
The biggest gains in manufacturing came in the construction industry, which saw a 5.9 percent jump in employment as scores of apartment buildings in Los Angeles County came on line. Commercial developments are popping up in every neighborhood. "Construction jobs are up sharply but well below their peak before the recession," Kleinhenz said.
Home sales were up 6.2 percent compared with a year earlier. The median price for a home in Los Angeles County last year was $485,980, a 7.8 percent increase over 2014's median price of $450,960.
"The year 2016 [in Los Angeles County] should be a year of strength in the housing market with increased construction and housing sales," Kleinhenz said.
With mortgage interest rates expected to rise slightly in coming years, that could be the incentive for potential buyers to get off the fence.
After seeing a 2.2 percent increase in jobs last year, Los Angeles County should be adding 1.7 percent more employees to payrolls this year and continue that momentum with a 1 percent rise in jobs in 2017.
With more people employed and higher paychecks, total taxable sales should rise 5.5 percent this year.