TRADE SHOWS
Capsule: Forum for Emerging Style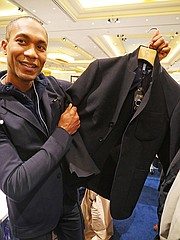 Before the Capsule trade show started its run Feb. 15–17 at the Sands Expo and Convention Center, two of the show's vendors gained some fashion-industry buzz.
EFM, a New York–based performance brand, won Fashion Group International's Rising Star award in January, a couple of weeks before it showed its mix of technical fabrics and luxury sportswear at Capsule.
Second/Layer, from Los Angeles' Venice district, appeared in New York Fashion Week earlier in February. At Capsule, it exhibited an idiosyncratic take on casual looks for men.
Also appearing at the show was Ne.Sense. The Taiwanese retailer debuted its first collection of menswear. Capsule also debuted a new section, called Elements, devoted to beauty, home and fragrance. And the Gen Art fashion organization introduced a section of curated collections at the show.
Retailers dropping by the show included Conveyor at Fred Segal, Urban Outfitters, Nordstrom, Saks Fifth Avenue, American Rag, Revolve, Barneys Japan and Mohawk General Store, said Edina Sultanik, cofounder of the contemporary, emerging designer show for men and women. Booth count remained even with Capsule's February 2015 show.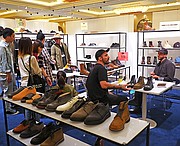 The show's traffic was good, said Gil Gomez, the owner of the Black Circle Agency. "We gained more new business this time around. We picked up more than 25 new accounts," he said. If the show arrived on the heels of a weak Christmas season, Gomez said that business was good because retailers needed new product.
Shaheen Sadeghi was one of the retailers at Capsule. He is the founder of Seed People's Market in Costa Mesa, Calif., as well as The Good Californian Haberdashery and Heart & Sole in Anaheim, Calif.
For Sadeghi, Capsule vendors were part of a wave of emerging brands focusing on more quality fabrics and details.
"It's part of a trend where consumers are showing more interest in investment clothing rather than something that they will wear a few times and throw away," he said.
On the trade-show floor, he saw classic and current style trends that still had a lot of mileage. "Updated '70s hippie—that trend is coming up pretty strong. We are at the end of narrow pants and silhouettes. We're getting into wider legs."