TRADE SHOWS
Curve@MAGIC Debuts New Format for Lingerie/Swim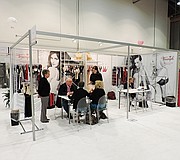 Last season was the first in the partnership between lingerie and swim trade show CurvExpo, organizers of CurveNV and CurveNY, and MAGIC parent UBM Advanstar. This season, rather than show in an enclosed space next to WWDMAGIC at the Las Vegas Convention Center, Curve@MAGIC was held within WWDMAGIC in an area easy for buyers to spot with large signage, balloons and strings of pastel panties between the booths.
"We tried to have the best of both worlds," said Pierre-Nicolas Hurstel, chief executive officer of CurvExpo, explaining that the show wanted a feeling of intimacy and a seamless connection with MAGIC to draw buyers in. Hurstel said the strategy worked as traffic was brisk on opening day of the show.
"That's what made yesterday an amazing day," Hurstel said on day two of the Feb. 16–18 run of the show.
Following the February show, Hurstel said, he plans to take a look at what worked at the last two shows to create a best-of-both format for the next show in August. "We're going to take this show to the next level," he said.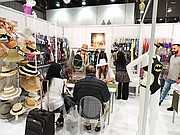 Curve@MAGIC exhibitors agreed that the opening day was a strong one.
"It was busy, busy all day," said Liz M. Siabato, senior product specialist, North American division, for Colombian lingerie and shapewear company Leonisa. "With MAGIC and Curve together, it attracted more people to our booth. Strong together is the best idea."
Siabato said she saw buyers from across the country and around the world, including Asia, Europe and Australia.
It was the same story at Felina, the Chatsworth, Calif., company that produces lingerie under the Felina, Jezebel andParamour brands.
"Yesterday was so good," said representative Amanda Rodriguez. "It was nonstop busy, a really good day one."
Rodriguez said at 6:30 p.m. on opening day buyers were still walking the show. This season, the company introduced a new elevated collection called Unveiled by Felina, which offers the same Parisian-inspired sensibility of Felina but is made with higher-end fabrics and sold at a slightly higher price point. An Unveiled by Felina bra might sell for $56 while a typical Felina bra is priced from $48 to $52.
"If she's going to spend the money [on lingerie], she wants to make it outerwear. She's going to unbutton the extra button," Rodriguez said.
At the Triumph lingerie booth, Fred Wells of Wells Apparel Group was still fielding back-to-back meetings with buyers on the second day of the show.
"It was much better than what we anticipated," he said, crediting the strong traffic to appointments, meetings with new accounts and the return of buyers who had skipped the show for several seasons.
"We have seen coast to coast, border to border, from Boston to California from New York to Oregon," he said.
It was similarly busy at the InGear booth, where representative Nancy Solazzo-LeGrand was showing InGear's collection, including licensed Corona swimwear and ále by Alessandra, the swim and accessories collection by Brazilian model Alessandra Ambrosio.
"People aren't making appointments, but they are showing up," Nancy Solazzo-LeGrand said. "A lot of new customers—[including] a lot of international people from the Caribbean—are coming to buy. We're ready to ship on 3/15. I just wish there were more swim people here."
(The February show typically has fewer swim exhibitors than the August show.)
The only drawback to the new configuration at Curve@MAGIC was its location next to childrenswear exhibitors at MAGIC. Felina's booth, covered with giant images of sexy lingerie, faced a childrenswear booth. Vincent DePaul, with Turkish men's and women's underwear collection Blackspade, praised the show's open layout but said he thought the location next to childrenswear probably affected traffic.
Still, De Paul said, on the first day Blackspade met with stores across the West Coast of the U.S. and Canada.