TRADE SHOWS
Diverse Mix at Project, Project Womens, The Tents and The Collective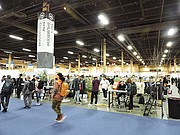 Buyers visiting the Mandalay Bay Convention Center had a lot to see during the Feb. 16–18 run of trade shows produced by MAGIC and Project parent UBM Advanstar.
With shows spread across more than 300,000 square feet of exhibition space, organizers had to give attendees "beacons of navigation" to help them find their way. The Mandalay Bay shows included Project, Project Women's, The Tents, The Collective and Pool, which this year was held within Project (see related story).
This year The Tents, Project's space for upscale menswear lines, moved to a new spot in the center of the show floor.
"The Tents are better here for traffic purposes," said Erik Ulin, president of men's for UBM Advanstar. "I've had some people come to me and say they had the best show ever."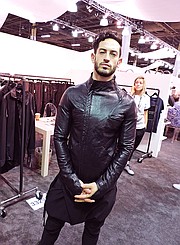 This was the first time at The Tents for Australian label TY-LR, said John Patrick Webb, East Coast sales representative for the collection, which is part of the Australian Fashion Labels Ltd. portfolio of brands.
"This is a great fit for us," he said. "It's a young, elevated price point, which reflects our position, and it gives us access to top doors in the country looking for multiple points of purchase." Webb said he'd seen retailers from all over the country, including stores from Chicago, Boston, Philadelphia, Minneapolis and Detroit.
Alexis Rosario, creative director or Los Angeles menswear brand Departed, was also seeing a wide range of retailers including European and Asian buyers.
With wholesale prices ranging from $36 for a T-shirt to $500 for coats, Departed's collection appeals to the "high-end hipster," said Departed stylist Natalie Ohlsson.
Seattle-based T-shirt line Ames Bros. has showed at several Las Vegas trade shows, including Pool and Agenda.
"We grew out of Pool," said company representative Coby Schultz. This year, the company returned to Project, where it was part of the lines showing with The Park Showroom. Ames Bros.' new collection included a series of T-shirts with retro Olympic-logo imagery.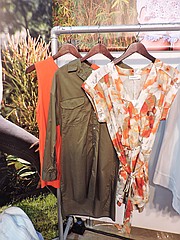 Japanese denim label Azul by Moussey was also showing with The Park Showroom, where Eric Byrne, senior account executive with the Season After Season Showroom, said he met with Planet Blue, Atlas and Zebra Club on the first day of the show.
"Day one picked up nicely," he said. "If we could just get people checked in faster." (A problem at registration had several attendees waiting up to 30 minutes to get their badges to enter the show.)
Byrne said he's seeing a renewed interested of higher price points, such as $300 to $400 for a pair of jeans. Plus, he predicted rips and embellishments to be "huge this year and going into fall."
On the women's side of Project, Gregg Garrett, owner of Irvine, Calif.–based Z Supply—which produces White Crow, Black Swan, Others Follow Z Supply tees and new collection Rag Poets—said the first day of the show was busy starting at 9 a.m.
"We had 84 appointments for the day; we'll end up with over 100 for the day," he said on the first day of the show.
Indeed, every seat was filled at the Z Supply booth as Garrett wrapped up a meeting with Thomas George, owner of the E Street Denim stores.
Garrett, along with Z Supply chief operating officer Heidi Muther and director of sales Tony Sanchez, said many buyers were looking for Immediate goods.
"The at-once business is so important," Muther said, adding that the company is working to educate buyers on the benefits of Z Supply's fashion basics program.
"Our bookings are up over last year—and last year was a good year," Garrett said.
At the AS by DF and ASTARS booth, designer Denise Focil said some buyers are starting to take a little more risk on new styles. On the first day of the show, she was juggling meetings with boutique, department store and resort buyers, including opening new accounts and meeting with international buyers.
"We've already have done more than the first day last year," she said by mid-afternoon.
This season, Focil introduced the first handbag for AS by DF. Called "The Icon," the reversible leather handbag comes in two colorways: a gray/tan and a brown leather bag that reverses to suede.
"If you're investing in a bag, the first one has to be an icon," she said. "I spent five months getting the wash right."
Project Womens also included an area dedicated to activewear collections, including made-in-Los Angeles men's and women's yoga brand Electric & Rose.
Eric Balfour, who cofounded the line with his wife, Erin Chiamulon, said they picked up some new accounts on opening day.
This season, the brand expanded its legging offerings and added a bralette with crisscross straps along the back.
"Everyone has been asking for a strappy bra," Chiamulon said, adding that they also added some backless styles "to show off the strappy bra" as well as a poncho with blanket stitch and several tie dye styles.