TRADE SHOWS
With New Owners, WWIN Stays Consistent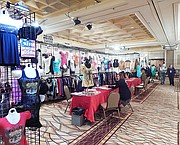 Even though the Women's Wear In Nevada show has a new owner, not much changed at the jam-packed event, where women's clothing and accessories filled six ballrooms and two large meeting rooms at the Rio All-Suites Hotel & Casino.
The first day of the show was abuzz with busy buyers seated at tables where they reviewed new lines for Fall 2016. The show—held Feb. 15–18—stayed open until 8 p.m. the first night with a wine bar at 6 p.m.
"We were totally full and maxed out with every booth that the fire department would allow us to put in," said Roland Timney, who cofounded the show in 1998 and is now one of the show's managers. Timney and Jeff Yunis sold their show last year to Urban Expositions, which organizes several gift shows around the country.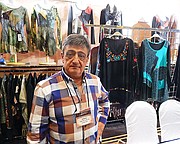 The WWIN show, held twice a year, traditionally has many of the same exhibitors year after year. Jacob Separzadeh, whose Radzoli label is based in Los Angeles, has been a consistent vendor who shows his contemporary blouses and tops manufactured in southern China. "This used to be one of the best shows, but now there are so many shows these days that there is only one day that is good," he said, noting that WWIN opened one day before many of the other Las Vegas shows.
Jim Park, owner of Jess & Jane in Gardena, Calif., has been coming to the show for seven or eight years. It is the only show he attends to display his tunics and tops manufactured in the Los Angeles area while his sales reps go to other shows. "We are happy to be part of the show," he said, noting that the number of retailers he saw this year was the same or down slightly from last year.
For Enchanted Imports, this was the company's first show. "We have been trying to do this show for a long time," said Alexis Ceriale, a sales representative for the Denver-based company. Enchanted Imports takes glass beads made in the Czech Republic and sends them to Guatemala, where they are fashioned into colorful necklaces and bracelets with ethnic images and styles that wholesale for 50 cents to $75. "This is our first time here, and it has been great," Ceriale said.
Enchanted Imports had the kind of unique and different items that retailers pound the exhibit halls searching for these days. Retailers at the show consistently said they were looking for something out of the ordinary.
That was true for Allison Koba, who owns the Souq store in downtown Omaha, Neb. She said she was hunting for "something very exciting … things that are really cool."
Even though the local Nebraska economy is strong, Koba was still looking for reasonably priced items. "Our customers will spend $250 on a fun coat or boots, but they will not spend more than $100 for a top," she said.