TRADE SHOWS
Offprice Busy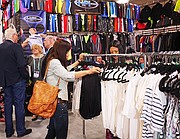 Activewear styles, plus sizes and medical scrubs were important categories at the 43rd Offprice show, which was held on the first level of the Sands Expo and Convention Center and ran Feb. 14–17, Stephen Krogulski said. He is the chief executive officer of Tarsus Group NA, the parent company of the Offprice show.
The number of booths exhibiting at the show was up slightly—1,351 booths—53 more than Offprice's show in February 2015, Krogulski said. Major off-price retailers who dropped by the show included Gabriel Bros., Ross Stores Inc., Citi-Trends and Mills Fleet Farm of Appleton, Wis.
"There was a great appetite to buy," Krogulski said of the show. "People did not kick the tires; they were buying."
Tony Peters, vice president of sales at Bermo Enterprises Inc., a veteran exhibitor at Offprice, said the recent show was one of the best he could remember. He estimated that sales would increase 20 percent compared with the February 2015 Offprice show.
"The first day was jumping. We could have used extra sales staff," he said. One of the reasons for the show's success was that retailers had made a habit of postponing orders in 2015. "They were holding off on ordering for so long that they had to buy," Peters said.
Popular items at Bermo's booth included women's polo shirts made with technical fabrics. They wholesaled for $2.50 each.