TRADE SHOWS
Pool Relocates Within Project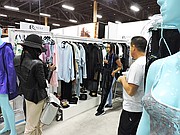 After several seasons moving around the Mandalay Bay Convention Center, the Pooltradeshow has a new home within the Project show at Mandalay Bay.
And the new location met with rave reviews from first-time exhibitors as well as brands that have showed at Pool since the very beginning.
"I love it. It's easy, easy, easy," said Freddie Rojas, designer of Los Angeles–based collection Rojas, which has showed at Pool since its very first edition in 2002. "They added so much access. They finally got it right." Now located in the space that formerly housed The Tents, Pool featured a layout that allowed buyers to easily walk between Project and The Collective show and the exhibitors at Pool. Plus, attendees who took the shuttle from the Las Vegas Convention Center were dropped off right at the entrance to Pool.
"I've always showed at Pool because I like to support young talent," Rojas said. "Buyers always like to come to Pool because they need something new. It's a good show. It's more for edgier businesses that don't want to look like everybody else."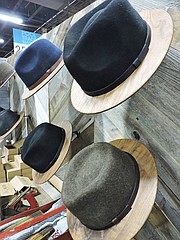 Rojas was sharing space with Lisa B., designer of Hipster G. lingerie, also based in Los Angeles.
"This is my first time, and I'm in love," she said on the second day of the show. "Yesterday the first three people were lingerie stores that I'm after [and] I wrote Japanese business."
The two designers praised the mix of merchandise at Pool, which includes edgier designer lines, T-shirts and accessories. For Lisa B., Pool's mix was a good fit for her lingerie collection.
"They pick up a little bralette to put in a T-shirt store, then they walk down the aisle to get sunglasses. It all works," she said.
This was the first time at Pool for Two Guys Bowtie, a menswear accessories collection from Tulsa, Okla.
Adam Teague and business partner Tim Paslay started the line more than three years ago with handcrafted bowties made from wood. The company has since added wood lapel pins and hats made from wood and felt.
"We're both woodworkers," Teague said. "Our concept is to push the envelope on what you think can be done with wood."
The hats, which feature a felt crown and a wood brim, were getting a lot of attention from retailers and consumers at Pool.
"It's been great," Teague said. "We've done gift markets and other markets. There are definitely great types of stores here."
Returning exhibitor Bella + Canvas had a booth at Pool as well as one at The Collective show, also located at Mandalay Bay.
Megan Spire said she was seeing steady traffic, including a lot of existing customers who are familiar with brand already.
"A lot of this is brand recognition," Spire said, adding that many Pool and Project exhibitors are already using Bella + Canvas blank T-shirts.
Oliver D. Maruna, designer of U.S. Rags in Gardena, Calif., said he had already worked with big accounts prior to Pool, but the show was a good place to pick up new business.
"This is picking up extra boutique orders to mix with production," he said, adding that turnout at the show included several international buyers.
"A lot of Italians this time," he said. "We had our usual Japanese group, although not as much as before."
Maruna said the international buyers were particularly price conscious because of the exchange rate and domestic buyers were looking for Immediate deliveries.
"Nobody wants fall, it's all Immediates. They can't even wait until April," he said.