TRADE SHOWS
Show Floor Expands at Sourcing at MAGIC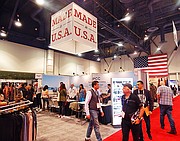 More than 40 countries from around the world set up booths in the North Hall of the Las Vegas Convention Center for the Sourcing at MAGIC trade show, held Feb. 15–18.
This year the semiannual event expanded to 2,000 booths from 1,450 a year ago, but for a change the show did not focus on one particular country.
Yet, for the first time, companies from East Africa, West Africa and South Africa set up booths under one pavilion coordinated by USAID, the U.S. Agency for International Development.
African manufacturers are trying to take advantage of the African Growth and Opportunity Act—a free-trade agreement with the United States that allows certain garments from some African countries to be imported duty-free into the U.S.
"We had a strong African pavilion. It is the first time all three manufacturing hubs in Africa—East, West and South—participated in Sourcing at the same time," said Bob Berg, senior sales manager, international, for the show. "In addition, we had Mauritius at the same time."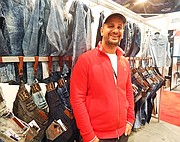 Overall, the busiest section of the trade show was the "Made in USA" corner of the floor, where companies such as Los Angeles–based California Rain, Made Well USA and Pacific Continental Clothing set up shop.
One buyer checking out the U.S. section was Scott Elfstrom, a San Francisco businessman who started a sort of AirBnB for rock climbers and is now branching out to manufacture T-shirts, tank tops and hoodies made in the United States for rock climbers. "I came to learn more about the industry," said Elfstrom, who is the founder of vEighteen, "and meet the vertically integrated 'Made in USA' companies."
Another popular section of the Sourcing show was the "Wearable Technology" hub, which is expected to be expanded at the upcoming August show. "There was a lot of interest in that," Berg said. He noted that DuPont was highlighting its various wearable-technology fabrics, and the North Carolina State College of Textiles, where a course on wearable technology is taught, was there too.
Blue Dragon also displayed a 3-D printer, which was the center of much attention.
Overall, the largest representation at the show was by Chinese manufacturers who traditionally take up more than two-thirds of the exhibition floor. With the global economy running hot and cold around the world, many manufacturers were looking for new markets.
That was the case for Ariel Geron, co-owner of Global Fashion Industry, which has two factories with 100 workers in Guangzhou, China. The bulk of his denim, wovens and knits are shipped to South America. But many of those economies are in free-fall.
Oil-rich Venezuela has seen its petroleum revenues slump, and the economy is experiencing a 180 percent inflation rate. Other countries such as Colombia have seen the value of their currency decline nearly 50 percent in the last few years because of the strong U.S. dollar. "South American countries are going down and down," the factory owner said.
So Geron decided to make his first visit to the Sourcing show in search of new clients. Several passed by his booth to inquire about price and shipping. "For the first time here, things are good. I have no complaints," he said.
Niraj Pugalia, whose Silver Apparel is located near New Delhi, India, hadn't been to the Sourcing show for five years, but he was back again. He too was looking for new geographic territories for his clothing, which concentrates on brightly colored embroidered tops with a resort feel. "Most of my business is in Europe, and the economy isn't doing so well there," he said.
Akshat Bubna of Only for You Designs in Mumbai, India, has been doing the Sourcing show twice a year to display his digitally printed tunics and tops. He felt the show was slower than in the past, but it is the only show on the West Coast where he feels buyers and overseas manufacturers can get together under one roof.
RELATED STORIES