As of Thursday, January 7, 2016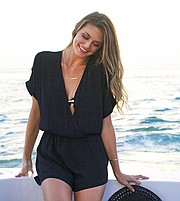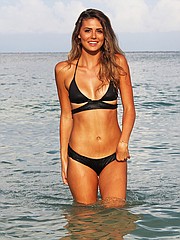 Around the same time Tom and Susan Leonard began developing their own swimwear and apparel brand for their Sarasota, Fla., boutique, Shore, a restaurant space opened in the same building. The result is a mixed-use restaurant and retail compound, also called Shore, in which both share an interest in sustainable business and an active lifestyle.
Many of the fabrics used in the Shore swim and apparel collections—including women's, men's and kids—are sourced from the United States, including fabrics made from Supima cotton, which is grown, spun and knit in the U.S. The women's swim line also includes a recycled fabric made in Italy. The Shore restaurant has a water-capture system that is used to irrigate an herb garden, and the predominantly organic ingredients are sourced locally. The Leonards are currently looking into switching to recycled shopping bags for the boutique.
"We believe in being more sustainable, helping out with the environment and being involved with our community," said Courtney Leonard, the couple's daughter. "Our beliefs carry forward into the brand—it's an extension of who we are as a brand."
The recycled fabrics may be ecologically friendly, but they're also soft, comfortable and practical, Courtney Leonard said.
"You can look good on the beach and also run out and play beach volleyball or go paddle boarding. That is what our brand message is all about—something that is comfortable but also convenient and allows you to do a lot of different activities."
Courtney Leonard co-designs the swimwear and apparel with her mother. When the company first launched the collection in 2012, the two designers were looking for something that fit their own lifestyle—and hung well with the other brands sold at the Shore boutique.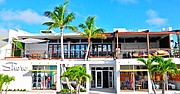 "We both share clothes, we are both fashionable, but we also are very active and want something to be comfortable in," Courtney Leonard said. "We came up with really classic styles using high-end luxury fabrics all done in the United States."
The Shore line started with women's swimwear, apparel and accessories, then grew to include men's styles and a small childrenswear collection. The line was initially sold only in the retail store, but when the Leonards began selling the collection online (at www.shorebrand.com), orders came in from New York, California and overseas. That prompted them to launch a wholesale division, which bowed last summer at the Miami SwimShow in Florida and the Swim Collective show in Huntington Beach, Calif. Orders landed at those shows are just now shipping to stores. Wholesale prices range from $40 to $110.
In addition to the wholesale launch, the Leonards are also expanding the Shore retail/restaurant concept to a second location in North Longboat Key, Fla., and are in talks about opening a third Florida location as well. Other possibilities for future expansion include California, where the Shore collection is produced. "Since that's where we do all of our production, it would be easily managed," Courtney Leonard said.
For more information, visit www.shorebrand.com.