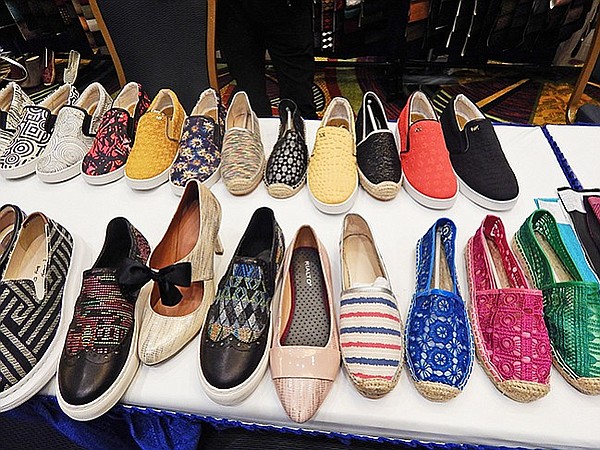 SOCAL MATERIALS
Show Draws Shoe Manufacturers Eager to See New Products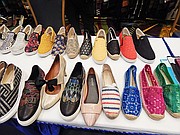 Southern California is becoming a growing area for cool shoe manufacturers appealing to a varied crowd of skate boarders, athletes and hipsters.
New fabrics, specially treated leather, textile innovations and lightweight shoe components are all the must-have ingredients shoe makers have on the top of their wish list.
For the third season, the SoCal Materials Show has united suppliers from around the world in a two-day trade exhibit for vendors to show their wares to these trendy shoe companies including Skechers, Deckers, Vans, Toms, K-Swiss, DC Shoes, Hoka and Creative Recreation.
This year, the Jan. 5–6 show at the LAX Marriott near the Los Angeles International Airport attracted 54 vendors compared with 57 vendors at last July's show, said Hisham Muhareb, who, with his wife, Kari, started American Events Inc. in 1994 to organize a materials show in Portland, Ore., that caters to the shoe industry but also is frequented by furniture makers and apparel manufacturers.
The NW Materials Show in Portland, home to such giants as Nike, is held twice a year and now attracts 245 vendors while the NE Materials Show in Boston, started in 2005, is a confab of 140 exhibitors.
The SoCal Materials show, first launched in January 2015, is still a work in progress as some vendors decide whether to participate in the show. "A lot of vendors say they want to try it out, and some are on the sidelines," said Hisham Muhareb. "There are pioneers and there are settlers."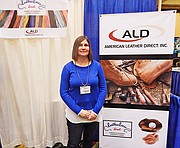 Last year, there were 87 exhibitors at the first show, which was held in the penthouse of the California Market Center in downtown Los Angeles. But the venue changed because most of the area's shoe manufacturers have offices on the Westside and wanted a closer show.
At the two-day show, the exhibition space was a sea of booths showcasing big swatches of leather, colorful high-tech fabrics, specially treated materials, shoe inserts, soles, polyurethane foam, soles, toe caps and heel caps. The event was basically started to service the scores of Skechers designers and materials developers who were in attendance the first day of the show. They didn't have far to go. Their offices are in nearby Manhattan Beach, Calif.
Every vendor at the show got a gift from Skechers—a multi-page list of materials developers, designers and major contacts with their email addresses. For many vendors, this was a gold mine.
"Can you imagine?" said Charlie Young, holding up the stapled pages that were given out.
Young, who works at Crecimiento Industrial Co. in Taiwan, has attended all three SoCal Materials Shows because his company's main client is Skechers. "Skechers wants us to come here," he said. His company started out specializing in polyurethane foam and expanded to lamination and textiles for the footwear and furniture industries.
This is also the third show for Roy Hill, the global accounts manager for Texon, a Hong Kong–based company that makes footwear materials and components. "Southern California has become a fairly fast-growing market for brands in skate, action sports and golf, and they need to be serviced as well as the big Portland guys," he said.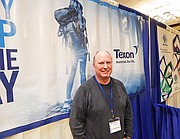 Jimmy Woo, foreign trade manager for Qingxin Special Shoes Material Ltd. in China, is also a three-time vendor. He was standing behind a colorful array of glittery materials and textiles used in shoes. "We come here because our major customer is Skechers. They had seven or eight designers who came by this morning."
Several new vendors were trying out the show to boost their client base. Matt Tucker and Tim Barrett of the Meramec Group, a family-owned enterprise started in 1952 outside of St. Louis, were trying to expand contacts. But they felt the show was a bit slow and its timing was off because there was competition with Outdoor Retailer, being held in Salt Lake City Jan. 7–10.
A first-timer having more success was Marc Finkelstein, president of Marc Steven Leather, a company with offices in Hong Kong and Hermosa Beach, Calif., a few miles away from the show's venue. The company manufactures leather in Thailand and other places and primarily ships it to Vietnam, a country whose footwear industry has been growing by leaps and bounds in the past two years. "We've had a busy morning. We saw Puma and Skechers," Finkelstein said. "It was a very happening morning."
Tonya Price was testing the SoCal Materials Show waters for the first time. Her company, American Leather Direct from Morgantown, Ky., has been trying to build brand recognition and contacts ever since its predecessor, Triple C Leather Co., combined forces in 2010 with Industrias Chahin de Orizaba in Mexico and was renamed American Leather Direct. It distributes leather laces and heavy vegetable-tanned leathers for belts, bags and pet products.
"We are just trying to get our name out there," Price said. "Our booth has been a little slow, but I think it is because we are new."
RELATED STORIES