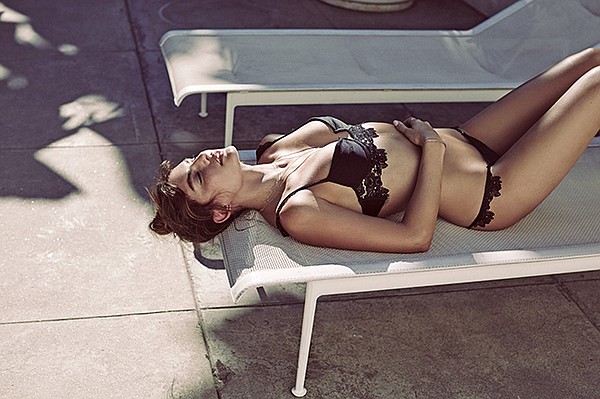 SWIM NEW RESOURCE
For Love & Lemons: Contemporary Swimwear With Lingerie-like Details
Sexy, low-cut dresses have been a specialty of Los Angeles–based brand For Love & Lemons, said Laura Hall, one of the designers for the brand, which has been sold at high-end specialty stores such as American Rag Cie, Elyse Walker and Planet Blue.
In December, Hall and co-designer Gillian Rose-Kern announced the debut of For Love & Lemons Swim. Count on the swim line embracing the spirit and the style of the For Love & Lemons label.
The bikinis and maillots are made out of lace and Lycra material. They feature details such as gold logo clasps and charms. Like the brand's lingerie line, SKIVVIES, the swim line features scalloped edges, ruffle details and "cheeky-cut" silhouettes.
For Love & Lemons has designed and manufactured ready-to-wear, a line called KNITZ, and introduced SKIVVIES in 2013. In fact, it was the lingerie fans who requested a swim line. "A lot of them were asking for swimwear from us because our lingerie collection was almost passable as swimwear," Rose-Kern said.
After a year of design and testing the swim line, the designers felt that they had something that was unique as well as being true to the spirit of the line. A majority of fabrics used in the line were developed in-house, the designers said. Laces are made waterproof, chlorine-proof and sun-proof so the garments will not fade.
Some signature pieces of the line are the "Barcelona" bikini and the "Riviera Crochet" coverups. The marketing campaign was photographed at some of Europe's most sophisticated beach getaway destinations.
For the next step, For Love & Lemons would like to expand the swimwear collection to include lifestyle items such as beach towels, sunglasses and beach bags.