MANUFACTURING
AAFA Names Helfenbein as New President and CEO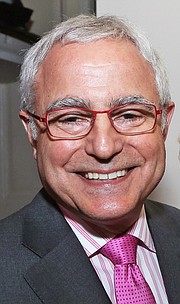 The American Apparel & Footwear Association, the trade group in Washington, D.C., comprising 530 apparel and footwear members representing 1,000 brands, has selected apparel and footwear veteran Rick Helfenbein to become the new president and chief executive of the organization.
Helfenbein will assume his new job on Feb. 15 after Juanita Duggan, the current president and CEO, steps down on Feb. 8. Duggan came on board in the summer of 2014 to head the AAFA. She is leaving after being named the new president and chief executive of the National Federation of Independent Business.
For the past two years, Helfenbein has been the AAFA chairman and has served on the board since 2008. For 16 years, he has directed the USA operations for Hong Kong–based apparel and footwear giant Luen Thai and was one of the key executives who helped grow the company into a large publicly listed apparel, accessories and footwear manufacturer on the Hong Kong Exchange.
Prior to Luen Thai, Helfenbein had extensive experience in apparel and textile manufacturing in the United States and sourcing in Central America.
"It is a great honor for me to have been selected to lead AAFA," Helfenbein said. "Having worked in the industry my entire career, I understand the important issues that we face and will continue the fight to expand and protect opportunities for all our member companies."
During his time on the AAFA board, the veteran executive has spent countless hours on Capitol Hill helping to secure passage of the Generalized System of Preference Update legislation, the first significant change to the GSP program in 40 years.
Helfenbein has been active in all of AAFA's key events, including AAFA's annual executive summit in Washington, D.C., and the American Image Awards, the industry's fashion, policy and business gala in New York. He has also been active in promoting AAFA's global presence, appearing several times on national television with commentary about international trade and other industry-related issues.
Helfenbein holds a bachelor of science degree in economics from The Wharton School at the University of Pennsylvania and participates annually in the Consortium for Operational Excellence in Retailing (COER) at Wharton and Harvard University.