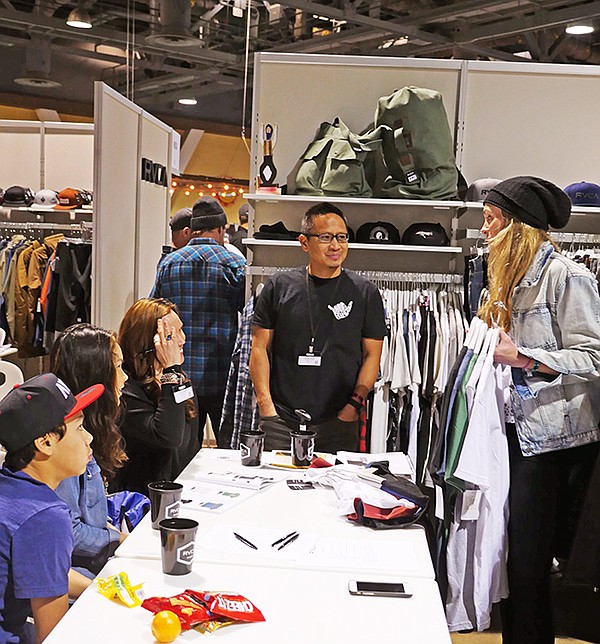 ATTENDANCE UP
Agenda Attendance Up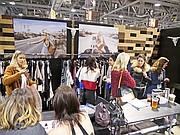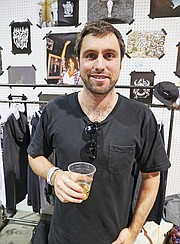 Attendance increased 6 percent at streetwear and action sports–focused trade show Agenda, held Jan. 7–8 at the sprawling Long Beach Convention Center in Long Beach, Calif.
For Aaron Levant, Agenda's founder, the news of the increased attendance over last year may be proof that the brands and retailers attending the biannual show can say goodbye to the soft business of the holiday 2015 season.
"It had great energy and optimism," Levant said of the show, which was held in more than 250,000 square feet of space at the Long Beach Convention Center, located by the busy Port of Long Beach. "People were ready to do business again." The vendor count and the number of booths doing business at the show were about even with the January 2015 show, Levant said. Along with streetwear and action sports, Agenda also focuses on categories such as men's fashion, women's fashion, apothecary, backpacks and phone accessories. The show took place after a period of doldrums for the action-sports market. ActionWatch is a market-research company that focuses on specialty retailers serving surf, skate and action sports. It found that sales for these retailers declined 1.7 percent in the January-through-November time period compared with the same period the previous year, said Cary Allington of ActionWatch. Some of the biggest action-sports retailers reported tough winter holiday sales. Zumiez Inc., a mall-based retailer of action-sports fashions, posted a same-store-sales decline of 8.9 percent in December 2015 compared with last year.
Bobby Kim, a cofounder of prominent streetwear brand The Hundreds, did not mince words about 2015 business in a Dec. 28 article he wrote on the state of streetwear in Hypebeast, a forum and e-tailer: "This was one of our worst years on record."
Despite anxiety about the health of the streetwear market, the show reported many high-end specialty retailers sent delegations of buyers to Agenda. Attendees included buyers from Nordstrom, Lord & Taylor, Urban Outfitters, Tilly's, Target, Zumiez and Active. Boutique and e-commerce retailer Nasty Gal also reportedly shopped the show. Influential boutiques such as Jack's Surf Shop also sent a delegation to Agenda. The show is a destination for core boutiques and retailers located away from the continental United States. Toda Moda, a boutique from Puerto Rico, was also spotted at the show.
There seemed to be consensus among vendors on the two-day show's pace of buyer traffic. The first day of the show, Jan. 7, was busy. The second day, Jan. 8, was slower, although meetings were held and orders were placed, according to vendors.
For Eme Mizioch of the Joken Style Showroom, Agenda business was spectacular, despite a series of powerful El Niño rainstorms, which soaked much of California a few days earlier. She estimated that her sales increased 80 percent over last year. "The rain and the weather did nothing to dampen the spirit of the buyers at the show," she said. Many of the sales for her clients—Gypsea Swim, Teeink and Lux-LA—were geared toward "at-once" orders. Larger orders with later delivery dates are typically placed once retailers develop a stronger relationship with a salesperson, she said.
Joel Cooper of Lost Enterprises said that he was pleasantly surprised that the pace of attendee traffic was much busier on the first day of the show than he predicted. He was also surprised that traffic at the show seemed to be equally divided between Lost and its sister line, Sea Gypsies. At previous shows, 80 percent of the traffic had gone to Lost.
Exhibiting at the show were prominent streetwear brands such as Obey and Crooks & Castles. Vans marked its 50th anniversary at its sprawling booth. Established surfwear brands such as Billabong, Hurley and Quiksilver also exhibited at the show. However, Hurley's booth served as a gallery space to show its new Cryptik Collection line. Quiksilver, which is going through a bankruptcy, only exhibited its Quiksilver Originals line. Josh Rush, its global creative director, described the line's style as the "organic, grassroots Quiksilver." Major retailers were not able to buy into it. It was intended for the core surf shops and the youth and lifestyle markets.
Also making an Agenda debut were the brands Cheap Monday, an influential Swedish denim company; Kook of the Day, a new surf brand; and Incase, a luggage and accessories line. Hoonigan, an action-sports line headquartered in Long Beach, increased the space of its booth for this edition of Agenda. It did business at a 20-by-20 booth. At Agenda's last show, in August, it ran a 10-by-10 booth. Agenda also introduced a new section to the show, called Enclave, for premium street and men's contemporary fashions.
A major trend at the show was blending performance, technical fabrics and fashion. The RVCA booth featured clothes made for sports such as a jiu-jitsu and coaches' jackets that wick away moisture. The Tavik line exhibited its "Ruger Parka." It keeps out the elements, according to a Tavik statement, but also can be zipped into other Tavik garments as well as accessories made by the company.
For Neely Shearer of the boutique In Heroes We Trust, based in LA's Venice Beach neighborhood, one of the main fashion trends that she saw at the show was men's long-sleeve, button-up shirting. Most shirts were presented in basic colors.
"There seemed to be a lot of artist collaborations, too," she said of capsule collections offered by the brands.
Paulina Castelli of Venice Heights, another Venice-area boutique, reported that unisex athleisure styles seemed to be popular at the show. "I saw a lot of denim with an American heritage look and chinos styled with legs rolled up way past the ankles," she said.
After the show closed on Jan. 8, many of the attendees and vendors walked to the convention center's Center Theater for the Agenda Emerge Conference. Presented by Project Cobalt, Group Y and Nice Kicks, the conference features TED-style talks where business leaders and artists speak on their careers. Speaking at the Agenda Emerge Conference was Jeff Kearl, cofounder of Stance; Nic Galway, a global design vice president of Adidas Originals; Jon Wexler, a marketing chief at Adidas; and Mark Gonzalez, a pioneering skateboarder.
Next up for Agenda is its first trade show in Miami. It takes place at the Mana Wynwood Production Village Jan. 18–19.