NEW LINES
Showroom Profile: Now Showroom LA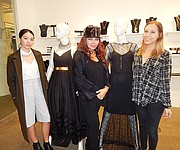 Gerry Building, Suite 406
(213) 892-1615
Couture, contemporary and ready-to-wear styles from designers around the world fill the new Now Showroom LA, opened recently by Natasha Greizen, a Los Angeles jewelry designer and entrepreneur.
In her sparsely decorated showroom with polished concrete floors and white walls, there are five sales representatives for nine lines of clothing, jewelry and handbags.
The brands are created by designers in Nigeria, Indonesia, South Africa, Australia and the United States for store owners looking for something with a fresh, sophisticated edge.
One of the more fashion-forward labels in the showroom is Lotuz, a brand from Jakarta, Indonesia, that encapsulates the modern woman. The collection, designed by Yosep Sinudarsono, focuses on high-quality materials that can take a woman from day to evening. The ready-to-wear wholesales for $60 to $90 and is filled with peplum tops, peplum dresses and sculpted-waist dresses in mostly black and white and royal blue. The line offers bespoke creations of evening gowns and cocktail dresses that wholesale for $500 to $900.
From Johannesburg, South Africa, is the contemporary women's collection Michael Maven, established in 2013 by siblings Natasha, Nadia and Mihkael Michael. The collection embraces minimalism and understated elegance and is carried by Dash, the popular contemporary women's store chain owned by Khloe, Kourtney and Kim Khardashian.
The Michael Maven line for Spring/Summer 2016 is heavy on black and red creations seen in column dresses, palazzo pants, cut-out dresses and shift dresses. Wholesale prices range from $70 to $174.
The Oroceo Castro line from Melbourne, Australia, is heavy on feminine looks that are classic with swing skirts—some in neoprene—cropped palazzo pants and plaid dresses and shirts. The collection wholesales from $125 to $180.
Morin. O is a handbag line from Nigeria that makes purses out of leather and animal skins found in Nigeria, India and Italy. They wholesale for $300 to $1,200.
The showroom also reps five jewelry lines: Gemma Azzurro, Gold Philosophy, Kat Ong, Alicia Mohr and Natasha Morse.