NEW LINES
Showroom Profile: Succarra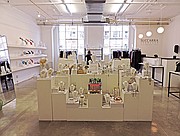 Cooper Design Space, Suite 309
(213) 612-0986
The Succarra showroom is in New York, Dallas and Atlanta, but until six months ago it did not have a home in Los Angeles. That changed with the opening of the newest Succarra location at the Cooper Design Space.
Succarra represents about 30 lines across all its showrooms. The Los Angeles showroom has about 11 accessories collections and two apparel collections, Los Angeles–based contemporary collection Natalia Romano (which also keeps a showroom and design space at the nearby Gerry Building) and New York–based athleisure line West56.
The newest accessories collection is Florida-based Stephanie Kantis, a high-end collection that sells in upscale stores including Neiman Marcus and Nordstrom.
"We're their first showroom, which is really exciting," said Haley Barcus, showroom coordinator for Succarra Los Angeles.
Succarra also represents several California-based collections, including Los Angeles–based Criscara, a boho line known for body chains and hand chains, which is wholesale priced from about $19 to $39. The newest collection from Ayana Designs, also based in Los Angeles, also has a boho aesthetic and is wholesale priced from about $9 to $38. San Francisco–based Margaret Elizabeth is known for its bangles with precious stones. "You can stack them together," Barcus said. Wholesale prices range from about $35 to $130. Gazel is a San Francisco–based, Turkish-inspired collection of jewelry that is wholesale priced from about $14 to $54.
New York–based Fairchild Baldwin features beaded statement pieces with leather straps and magnetic closures. Prices are between $146 and $227 wholesale.
Based in Dallas, Charmed Circle features chunky chains wrapped in stingray and leather. The latest collection includes more-dainty pieces, Barcus said, and is wholesale priced from about $20 to $410.
Australian collection From St. Xavier includes tribal jewelry styles with crystals and beaded and metal handbags. Wholesale prices range from $18 to $64.
Masachussetts-based Sisco + Berlutti features thick hammered-metal statement pieces with stones and beading that are wholesale priced from about $20 to $60.