As of Thursday, January 14, 2016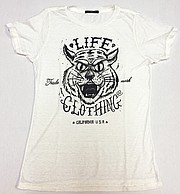 After a gig selling lingerie, Bobby Banafsheian shifted fashion gears.
He started T-shirt and basics line Life Clothing Co. Since its 2009 debut, some of his styles have sold at Urban Outfitters, Topshop, Nordstrom and Bloomingdale's. He's also expanding three additional T-shirt-focused lines: Beyond Modern, American Jukebox and People of Leisure.
People of Leisure is for the woman who does yoga and hikes. The line's fitted silhouettes are made with soft fabrics, neutral colors and nature-inspired graphics. It also features thermals, hoodies and leggings. Wholesale price points range from $18 to $30.
American Jukebox is devoted to rock 'n' roll graphics. Some of the graphics are band logos licensed from the companies Epic Rights and Warner Bros. Artists working with the American Jukebox line hand draw logos from 1960s San Francisco Bay Area bands such as Jefferson Airplane and the Grateful Dead. The artists' work gives the logos a new look and the T-shirts an artisanal feel, Banafsheian said. Other artists and bands handled by American Jukebox are Joan Jett, Billy Idol, Chicago and the Doobie Brothers. The line also does graphics such as skeletons, snakes and tattoo-style drawings. Wholesale price points range from $16 to $25.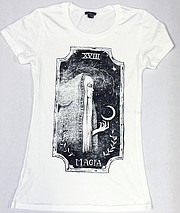 Beyond Modern offers clothes to contemporary markets. A point of difference are the T-shirts' silhouettes. The T-shirts' back hems hang very low, below the wearer's seat. The T-shirts are 44 inches from neck to the low hem, Banafsheian said. Wholesale price points range from $14 to $18. Banafsheian's original brand, Life Clothing Co., is devoted to trend-driven graphics. Wholesale price points range from $12 to $16.
Banafsheian wanted to get into the T-shirt business in order to participate more fully in the made-in-Los Angeles manufacturing movement. The market has been tough for domestic manufacturers recently. But Banafsheian said that Los Angeles manufacturers can take more market share.
"A lot of people are discouraged and are telling younger people not to go into this field," he said. "But there is a lot of business out there. With the right partnerships, with the right creativity, we can catch a lot of the market. We have the resources, the technology and the textile factories. There is still a culture of manufacturers," he said.
For more information, email bobby@lifeclothingco.com.