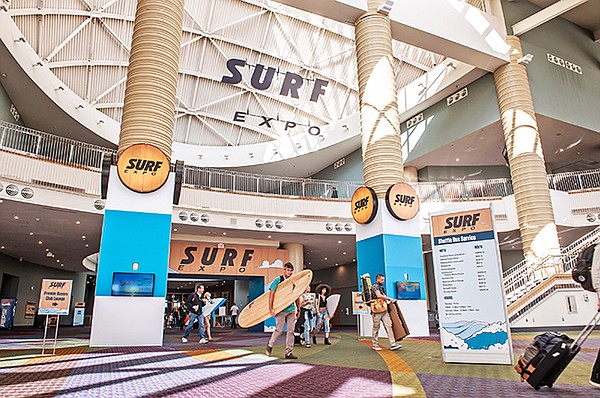 40 YEARS OF SWIM/SURF
Surf Expo: Biggest Show, Trade Show Director Says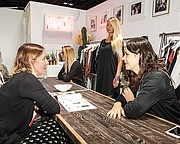 It was the 40th anniversary of the Surf Expo trade show, and during its most recent run, Jan. 14–16 in Orlando, Fla., the sprawling trade show for swim, surfwear and beach culture reported an increase in vendors.
Roy Turner, senior vice president at Emerald Expositions, the producer of Surf Expo, said there was a slight increase in vendors—more than 5 percent, he estimated—compared with its show last January. Both shows were considered the biggest shows in Surf Expo's four-decade history. The show covered about 250,000 square feet of real estate in Orlando's Orange County Convention Center.
The vendors were some of the biggest surf and beachwear companies, including Manhattan Beachwear, Billabong, Quiksilver and L*Space by Monica Wise. The show also devotes a section to the "hard goods" of surfboards, wake boards and stand-up paddle boards. The mix of hard goods and large displays of brand collections reportedly attracts California retailers such as Jack's Surf Shop. However, for the large contingent of California-based brands exhibiting at the show, it was a chance to catch up with their East Coast retail partners.
Mac Beu, president of Katin brand, said his heritage surf label saw more than 50 core surf shops headquartered on the East Coast during Surf Expo. For him, the sprawling show had a sense of intimacy. "When you have an appointment at that show, it's a thorough meeting," he said.
The Maui & Sons brand has been exhibiting at Surf Expo for more than 20 years, said Patricia Thornton, senior vice president of sales at Maui & Sons.
"For us it's always a writing show," she said. About 60 percent of the orders written at the show were for at-once orders. The rest were for summer 2016 delivery dates.
Surf brand Vissla introduced its first full collection of wet suits at Surf Expo, said Rob McCarty, the brand's vice president of design and merchandising. "We saw over 80 accounts in three days," he said. "It was better than expected."
Surf Expo was the first major trade show that Vissla has exhibited at in a year. Paul Naude, the brand's founder, made a splash in 2015 when he made a statement that the brand would only exhibit at regional trade shows.
McCarty called Surf Expo an "efficient" vehicle for Vissla's sales initiatives because the brand's salespeople got to see buyers from shops across the eastern seaboard, the Caribbean and Central America. He said the brand will continue to focus on regional trade shows. "We want to service accounts as best as we can," he said. "Trade shows can get expensive, and we want to save money and direct money to market to the consumer. It's what we have to do as a young brand. The more consumer demand we create, the more shops will want to stock our product."
The California-based Kennington men's shirting brand made its debut at Surf Expo at its most recent run. Tom Nagy, the brand's national sales manager, said the sprawling show had the sensibility of a regional show.
"It's very Southeast," he said. "They wanted everything to be bright. Bright colors seem to work well down there."
Surf Expo had an easygoing pace, he said. "It was a slower show than expected—that is what I heard from other vendors. No one's booth was overflowing. I don't know if that was due to a tough 2015," Nagy said.
Surf and action-sports apparel are just one part of Surf Expo. Established surf brands reportedly exhibited at sizable booths. Small and emerging surf brands exhibited at a section called The Neighborhood, which made its sophomore run at the recent show. Brands exhibiting at this section typically showed in 10-by-10 booths.
Surf Expo's exhibitors also include exhibitors in other categories, such as Pelagic Gear, which sells fishing gear. Brands for the stand-up paddle lifestyle also were popular, Turner said. The show also produced a large gift section, which was popular with retailers serving resorts and cruise ships.
Retailers reported seen at the show included high-end surf shops such as 17th Street Surf Shop in Virginia Beach, Va.; Outer Banks Surf Shop in Duck, N.C.; and Ron Jon Surf Shop of Cocoa Beach, Fla., as well as high-profile retailers Macy's Inc. and Dick's Sporting Goods.