As of Thursday, January 28, 2016
Photo Gallery
Hong Kong Fashion Week 2016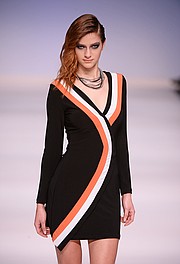 Hong Kong Fashion Week Runway | Fall/Winter 2016
HONG KONG—More than 10 fashion designer and brand collection shows took place at the semiannual Hong Kong Fashion Week Jan. 18–21, highlighting fashions for the Fall/Winter 2016 season.
With menswear experiencing a resurgence in style and popularity, there were more men's fashions on the runway than in previous years.
Fashion designers from around the world—including Myanmar, Japan, China, Hong Kong and New Zealand—presented their creations to fashion observers keeping track of the latest trends.
Designs ranged from contemporary fashion to traditional Asian pieces that were heavily embroidered with bright colors.