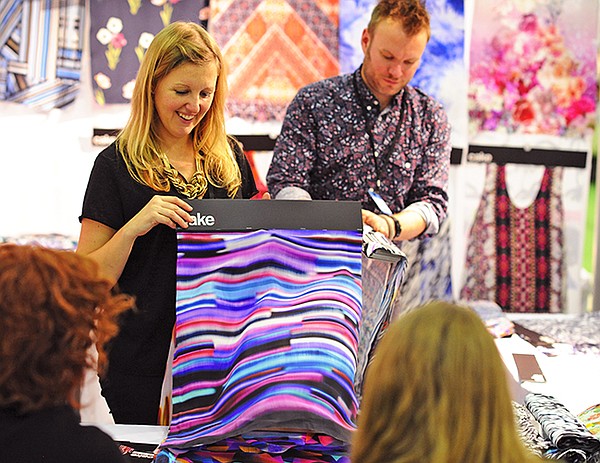 PV PREVIEW
Major Increase in Exhibitors at Premiére Vision
NEW YORK—International textile show Première Vision New York hosted its 32nd show in New York, featuring fabrics, trim, leather, manufacturing resources and original artwork at a new venue—Midtown West's Pier 94.
"The new venue gives us a new opportunity," said Première Vision International Exhibitions Director Guglielmo Olearo, referencing the show's two new categories this year: manufacturing and leather.
"We've improved a lot, and we're now able to offer everything from A to Zed for fashion brands," Olearo said.
At the Jan. 19–20 show, Première Vision saw an 18 percent increase in exhibitors over last year.
One new exhibitor on that list is 22-year-old textile designer Britt Laspina. Not only is this Laspina's first Première Vision show, it's her first show ever.
"We might be the exhibitors who have traveled the farthest," said the Brisbane, Australia–based designer.
Laspina said buyers at the show gravitated most to her hand-drawn materials—pastel flowers woven with creamy pinks and greens. And she thanked social media for her growing client list.
"I have found nearly every single one of my clients on Instagram," she said of her account, which boasts nearly 13,000 followers.
"I integrate my personality into my work," Laspina adds. "It helps my clients put a face to the name."
Another Première Vision first-timer was Portugal-based MTEX Solutions, a digital textile printing company, which displayed the only machine at Première Vision, the MTEX Blue Neo.
"This machine allows you to print on various textiles in one single pass via a heat chamber," explained MTEX Regional Sales Manager Henry Maya.
The machines quickly and seamlessly print designs onto several types of materials—including polyester, cotton and canvas at a price Maya described as "cost-effective." An MTEX Blue Neo costs about $70,000.
Maya counts Ralph Lauren as one of MTEX's biggest clients. The manufacturer uses MTEX for pre- and post-treatment of textiles.
One exhibitor who knows the Première Vision ropes well is 18-year-old French textile company Philea. President Pierre Schmitt said he's been coming to Première Vision for more than 15 years and has observed some noteworthy changes.
"It's a new generation of customers," Schmitt said, "and there are more small businesses than ever."
While Schmitt said he prefers larger shipping orders, he said that the most important thing is that a customer understands the anatomy of the fabric.
"To design is one thing," Schmitt said. "To understand the beauty of a garment is another."
Schmitt noted that deep color intensity is performing well this year, along with faux fur, jackets with satin-back stretch and crêpe satin georgette.
For many attendees, Première Vision New York is an opportunity to preview the colors and trends of Spring/Summer 2017.
"We're getting good feedback from the designers on the color range," said Première Vision Deputy Fashion Director Sabine Le Chatelier. "It's optimistic and energetic."
Even the carpets at Première Vision were a spring-inspired green, reflecting one of the color range's "Doping Green" panels.
Le Chatelier hosted a "Trend Tasting" seminar at the show, which also featured an extensive trend forum on the show floor.
"Première Vision is the only existing show with an internal fashion team," Le Chatelier said, referencing the team of eight responsible for predicting the trends and conveying them to exhibitors and buyers. "We consider Première Vision not only a trade show but a fashion show."