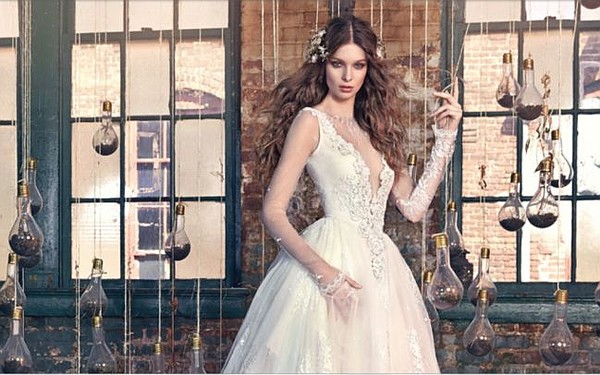 Galia Lahav Haute Couture to Los Angeles
It's a time for brides and eveningwear on Los Angeles' La Brea Avenue.
Israeli-fashion house Galia Lahav Haute Couture opened a flagship boutique at 169 N. La Brea Avenue, between Beverly Boulevard and West 1st Street. On Jan. 28, Lahav presided over a gala debut party for the two story, 5,700-square foot space.
Actress Angela Bassett reportedly dropped by the party to view red carpet looks and wedding dresses that were called best for the sexy, confident bride said Brielle Fisher and Marlis Fyke. They partnered with Lahav on the Los Angeles flagship.
"It's one of a kind. It's edgy. It feels sensual," Fisher said of Lahav's bridal looks. Lahav's silhouettes often feature low backs and unique fabrics.
The flagship also looks different from a mainstream bridal store. Instead of white and pink colors in the décor, the color design features dark blues and gray accents.
Dressing rooms at the flagship were intended to make space for a bride's whole party, Fyke said. "Each bride has a full living room space to try on gowns. Everything is big and open," she said.
The store will offer a ready-to-wear line. The couture line ranges from $7,200 and goes past $20,000, Fisher said.
Galia Lahav Haute Couture has been sold at Bergdorf Goodman, Neiman Marcus and The White Dress, a Corona Del Mar, Calif. boutique owned by Fisher and Fyke. A Los Angeles-flagship was opened because of demand for the gowns in Los Angeles as well as an interest putting Galia Lahav looks on the city's red carpet events.