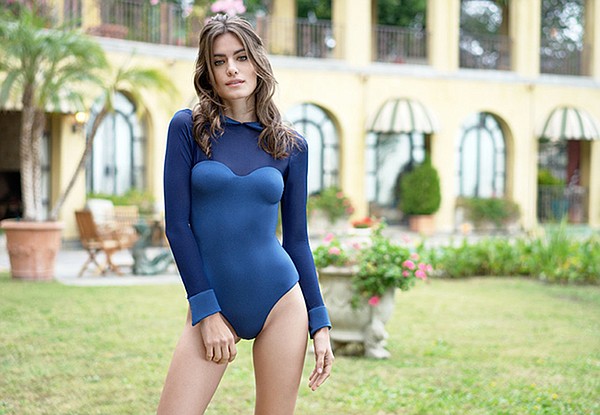 AMAIÒ SWIM
Amaiò Swim: Cross-Cultural Collection Inspired by Couture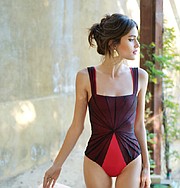 Samantha Khoury, the designer of Los Angeles–based Amaiò Swim, spent her early years traveling between the east and west coasts of the United States as well as France and Lebanon. This cross-cultural and cross-continental upbringing informs her recently launched swimwear collection, which is also inspired by Khoury's studies in studio fine arts, literature and fashion design.
"Swimwear is the perfect canvas to combine my passions—my love for the ocean and that beach lifestyle with my love of the fine arts and my admiration of the specialty of haute couture," Khoury said. "Having that new canvas to create an ode to traditional craftsmanship—it is a perfect platform."
Khoury sources her fabrics from Italy, France and Germany and the hardware from France. The collection is produced in Los Angeles.
"It was really important to me to use some of the oldest swimwear mills currently and source the highest-quality fabrics," she said. "I wanted to create something that was really focused on the materials at the base and start from a foundation inspired by haute couture."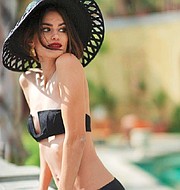 The high-end inspiration can be seen in Khoury's suits. The "Avril" has a ruche-front overlay, and the "Amour" is a two-piece featuring a sculptural bandeau top with gold hardware.
Several pieces can easily cross over into ready-to-wear, such as the "Ballet," a maillot with long sleeves and a Peter Pan collar, and the "Bardot," a one-piece with a strapless corset top.
"Swimwear is moving into this realm of straddling the border between swimwear and fashion," Khoury said. "Things are getting more blurred, and that's fun as a designer."
The Amaiò customer is a "curated consumer," Khoury said. "She loves those classic statement pieces that you can style in a multitude of ways and have a lot of versatility."
Khoury is designing for a customer who appreciates culture and the arts as well as fashion, food and travel. Although she appreciates the beach lifestyle, the Amaiò customer is "definitely more cosmopolitan."
Khoury was living in Paris when she decided to launch Amaiò but returned to the United States to launch the line.
"I was passionate about manufacturing in the United States," she said, adding, "I [also] wanted to come back to the United States and reconnect with those American roots to help with the style and aesthetic."
Wholesale prices for Amaiò range from $175 to $210. The collection is showing at the Hammock trade show in Miami Beach, Fla. For more information, visit www.amaioswim.com.