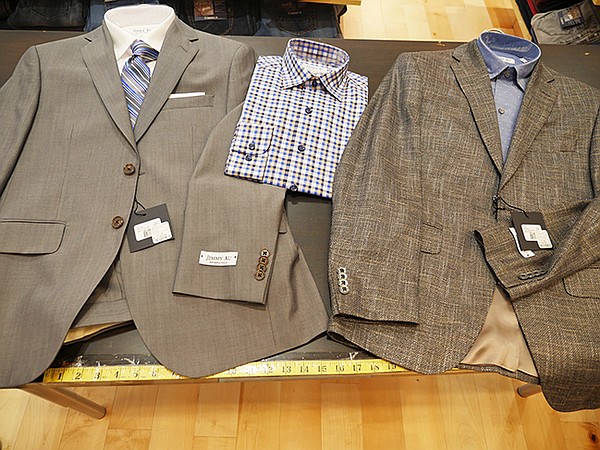 JIMMY AU'S
Niche Suit Maker Jimmy Au's Leaves Beverly Hills for Sherman Oaks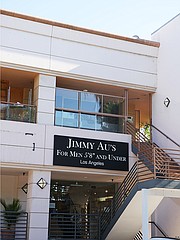 There's only one store in the United States selling suits and gear for the shorter man; it's Jimmy Au's for Men 5'8" and Under, said Alan Au, company vice president.
Earlier this month, the veteran, niche men's retailer moved to a larger location, and it aims to forge a new style direction, Au said.
Jimmy Au's opened at 14755 Ventura Blvd. in Sherman Oaks in Los Angeles' San Fernando Valley on the July 4 weekend. It settled into the 4,700-square-foot space after a decade of working out of a 3,200-square-foot space at 9408 Brighton Way in Beverly Hills, Calif. The suiting store moved after it was outbid for its lease by a group of beauty salons.
Sherman Oaks is located only eight miles away from Beverly Hills, but the Main Street milieu of Jimmy Au's new neighborhood is a world away from the glitz of Beverly Hills. Au said that the new location will mean a new clientele. It's going to be more local. He doesn't expect to see as many of the wealthy tourists that were part of his Beverly Hills business. The retailer is expected to be a destination. Traditionally, 55 percent of the company's sales comes from outside of Southern California. Jimmy Au also supplies clothes to film and TV studios for short actors.
The move away from Beverly Hills might give the shop more choice in its merchandise mix. The Beverly Hills crowd was interested in styles that Au called "updated traditional." They looked preppie and perhaps a bit East Coast.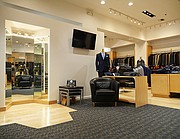 "Here, I'm going to be edgier," Au said. "I hope to have more for the 20- to 30-year-old guy." The store's new direction will be more sportswear.
Jimmy Au's move comes at a time when Southern California entrepreneurs are showing more interest in opening suiting shops. Irvine, Calif.–based online suiting company Combatant Gentlemen is scheduled to open a boutique at Santa Monica Place in Santa Monica, Calif., on July 20. Bespoke suiting studio JB Clothiers took a bow in downtown Los Angeles' Fashion District at 859 S. Spring St. in May, said Jerry Bakhchyan, the atelier's founder and designer.
"I saw opportunity in downtown Los Angeles. So many young professionals are moving in," Bakhchyan said. His bespoke suits start at $2,000.
Pocket Square Clothing opened a lifestyle shop near downtown Los Angeles' Financial District also in May. It focuses on the design of ties, pocket squares and accessories for suits. But cofounder Rodolfo Ramirez is thinking of expanding into suiting.
"Within the first week, we had 50 people ask for bespoke suiting. It was something I did not expect at all," Ramirez said. With retail price points for bespoke suiting generally ranging from $1,500 to $10,000, Ramirez estimated that if those 50 shoppers ordered bespoke suits at the category's higher price range, his shop could have potentially made $500,000. His clientele comes from downtown's financial district; they are also menswear enthusiasts and creatives looking for unique styles.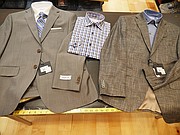 Jimmy Au started his bespoke suiting atelier for shorter men with a shop in Torrance, Calif., in 1971. His point of difference was scale and tailoring. Larger men's suits can be altered to fit shorter men, but the scale and fit of the suit will be out of proportion, and there is the danger for the shorter man to look like he is wearing a hand-me-down suit. Also, most retailers don't sell special sizes such as short and extra short, Alan Au said. Extra short is for guys 5'2" to 5'5". Short is 5'5" to 5'8", he said.
The Sherman Oaks store was designed by Jimmy Au to look much like the Beverly Hills store. When a customer walks in the store, he'll find 40 styles of jeans made by German-headquartered brand Atelier Gardeur, which are tailored to Jimmy Au's specifications. The most popular style is a cashmere-blend jean, Alan Au said. Also in the merchandising mix, leather jackets and, for the summer season, Aloha shirts, chinos and shorts.
In the back of the front room is a wall for shirting and ties. The middle of the space is devoted to a lounge. The rest of the store is devoted to ready-to-wear suits and an atelier for bespoke suits. As for being the only retailer devoted to small sizes for men, Alan Au said that the last of his competitors went out of business more than five years ago. There have been pop-up shops and online retailers devoted to short men since then but not a physical boutique. Jimmy Au, the founder, said his store lasted so long because of his perseverance. "It was my desire to make it work," he said.