TRADE SHOWS
Obituary: Showroom Owner Terry Ventre, 62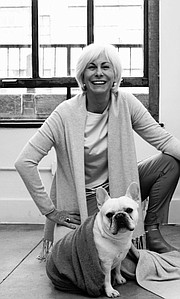 Terese Virginia Ventre—known to her friends, familiar and colleagues as Terr—died on June 23 after a short battle with lung cancer. She was 62 years old.
Ventre founded the Terry Ventre Showroom in New York, which this year celebrated its 25th anniversary. Ventre's husband, Elliot Zolot, was her partner in the business, which represented apparel labels such as Equestrian Designs, A'nue Ligne, Finley, Kinross Cashmere, Moyuru International and Babette.
Originally from Massachusetts, Ventre got her start in fashion working for retailers such as Louis of Boston and Ann Taylor and operating her own retail stores, Ginna and Ragtime, on Massachusetts' Nantucket island.
For more than two decades, Ventre represented Equestrian Designs, said Rick Ledesma, who owns the Santa Barbara, Calif.–based contemporary apparel collection with his wife, Iona Marshal, who designs the collection.
"Terry Ventre was an icon in the industry, respected and held in high esteem by her peers from the Midwest to Canada and down the East Coast," Ledema said. "There is a hole in fashion, and many are feeling tremendous sorrow."
In addition to her husband, Ventre is survived by her children, Harry and Ruby.
New York's Central Park was one of Ventre's favorite places to run, walk, and meet friends and loved ones. A park bench will be donated in her name. Anyone interested in contributing can make a donation in her name to www.centralparknyc.org/ventre. Donations in Ventre's name can also be made to the American Cancer Society. Memorials will be held in the Fall in New York, Nantucket, Chicago and Miami.