As of Wednesday, July 20, 2016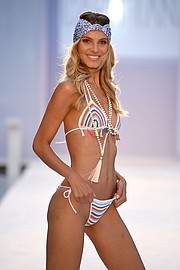 This year's Hammock runway show—held July 15 at the W South Beach hotel during Miami Swim Week—was a departure from the standard romp. For the first time in the swimwear trade show's seven-year history, the runway event was opened by a plus-sized model, a sign the industry is moving toward more inclusive design. Robyn Lawley, whose namesake line was featured at Hammock and made the cover of Sports Illustrated earlier this year, kicked off the event in a form-fitting, ruched white swimsuit from her Spring collection.
Showcasing a range of international designers, Hammock reinforced the notion that industry trends are moving toward boho-inspired looks. Tropical flora, crochet-knits, pom-poms, and tassels were a mainstay throughout the show, which featured a selection of Hammock show brands, including Capitanna, Elena Makri and Revel Rey.