RETAIL
Guerilla Atelier: Ultra Luxe Store Grows in Arts District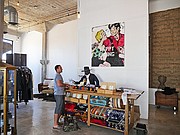 Carl Louisville spent a career on retail on Los Angeles' affluent Westside, but in 2011 he decided that opportunities lay east. He opened the ultra-luxe boutique Guerilla Atelier in the Skid Row–adjacent Arts District in downtown Los Angeles.
People called him crazy. But he found a niche where he could sell indie art, new fragrance and beauty lines, homewares, and fashions from Los Angeles and Europe to people surveying the Arts District's galleries and its burgeoning restaurant scene.
He recently moved Guerilla Atelier and signed a 10-year lease for a sprawling 6,000-square-foot space at 912 E. Third St. in the bustling heart of the Arts District (at East Third and Hewitt streets). He believes that the space, which once housed a warehouse and shop for bedwear company Matteo, will give Guerilla Atelier the full space to realize the maximum of its potential.
The new space features a shop-in-shop for art book publisher Taschen. One of the titles in the 300-square-foot shop-in-shop is a book on the career of celebrity photographer Annie Leibovitz. Called Sumo, it comes with a special stand crafted by influential designer Marc Newsom. It retails for $2,500.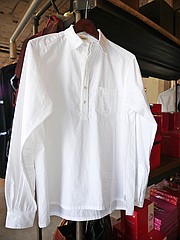 Since starting business, Guerilla Atelier has been devoted to introducing new brands such as the recently introduced San Francisco headwear brand Nosotros, which makes Western-style hats from Peruvian wool. A percentage of the line's sales goes to fund schools in Peru. The hats retail for $235. Guerilla Atelier also offers more space to brands with whom it has maintained long relationships, with such as RTH (Real, Truth, Honest), which is created by maverick designer René Holguin in Los Angeles.
One of the top-selling items at Guerilla Atelier is RTH's "Artist" shirt. It retails for $265. It slightly resembles a preppie shirt, what with its button-down collar. But then the garment turns bohemian. The hem of the shirt is long and drops just above the knee.
Another top seller is the "Trapeze Top" by Chris Gelinas, who was a finalist for the CFDA/Vogue Fashion Fund in 2015. It retails for $1,240. It features the designer's signature rose-gold buttons. The crepe de chine dress has been worn by Guerilla Atelier's clients as a whimsical flapper top slung over trousers or as a cocktail dress that falls just above the knee, Louisville said.
RELATED STORIES