As of Thursday, July 28, 2016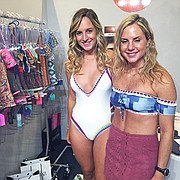 MIAMI BEACH, FLA.—Now in its second year after a substantial rebranding, the Hammock trade show returned to the W Hotel with 80 exhibitors offering a variety of niche resort, swim and accessories brands, including Kai Lani, Citrine, Issa de Mar and Revel Rey Swim. Retailers that stopped by the July 16–18 show included Net-a-Porter, Revolve Clothing and Saks Fifth Avenue, along with local and international boutiques. Hammock's managing partner, Rick Fatzinger, said hosting the event at the W Hotel allows Hammock to be at the center of the weekend's buzz.
"The traffic is here, the momentum is here," he said. "A lot of the [runway] shows are here, there's wonderful restaurants and entertainment; you really don't have to go anywhere else."
This year, Hammock introduced the Hammock Lounge in a new format, partnering with Bliss to offer oxygen blasts and massages to exhibitors and buyers. Additionally, Hammock Lounge invited L'Oréal stylists to conduct hair-styling consultations, offering trend outlooks for beauty and hair styling as an additional value for brands and retailers.
Hammock once again opted for a format that included both open booths as well as private suites. In a lobby-level ballroom, emerging designers showcased their brands to a variety of specialty retailers.
"We found most of the buyers here were boutique owners who have multiple stores," said Paula Daza of Lumé, which offered a colorful selection of swimwear, ready-to-wear and accessories in busy prints and boho details.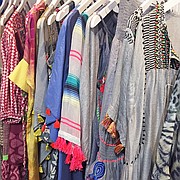 Likewise, the open-booth forum offered an opportunity for emerging and established international brands to break into the North American market. Anouk Grewal, whose resortwear collection has an extensive following in southern Europe, attended Hammock in anticipation of a U.S. launch.
"I didn't have any appointments, but I've had quite a few order inquiries," Grewal said. "The people coming in are serious about doing business."
Other brands exhibiting in the open forum ballroom included Argentine brand Juana de Arco, French swimwear linePain de Sucre and Peru-based Capitanna Swim.
Many buyers at the show come specifically to scope out trendsetting brands. Rosario Candela of Mar de Sueños in Punta Mita, Mexico, works with brands such as Eres and Karla Coletto.
"I'm hunting for something new at a good price point," Candela said. Though she's been attending Hammock and SwimShow for the last eight years, she now prefers to leave her schedule open for scouting. "I used to make appointments, but now I prefer to look and take my time," she said.
Upstairs, some brands expressed concern that the show's private-suite format inhibited buyers without appointments from entering.
"We've had a lot of our usual buyers come and see us but not a ton of new walk-throughs," said Tess Hamilton, the designer of Kaohs, a swimwear collection showcasing its sixth collection. Still, Hamilton praised the level of intimacy and comfort of working in a private room.
"I like that I can sit down with my buyers one-on-one. It's more personable," she said.