MIAMI SWIMSHOW
Large Retailers, E-tailers and Boutique Buyers Turn Out for SwimShow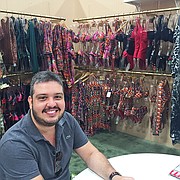 MIAMI BEACH, FLA.—Though most of the Miami Beach Convention Center was closed off due to an extensive renovation that kicked off earlier this year, Miami SwimShow 2016 was in full swing. The North American retail industry's largest swimwear trade show experienced a 13 percent increase in attendance this year, which showcased a variety of swimwear, resortwear and accessories brands at the July 16–19 event.
The show was held in a 250,000-square-foot exhibition space, where 350 exhibitors showcased roughly 2,500 brands from established names such as Jantzen and Gottex to international heavy hitters such as Onda de Mar, Malai and Seafolly. Retailers buzzing around the show included representatives from Everything but Water, Anthropologie, Barneys New York, Matches Fashion, Saks Fifth Avenue, Neiman Marcus, House of Fraser and Selfridges, along with a slew of specialty stores and boutiques. A Balinese theme helped set the mood as guests were beckoned to an indoor tropical oasis. Wicker chairs, flowing white curtains and metallic lanterns adorned SwimShow's various lounges, offering attendees a respite from the bustling floor.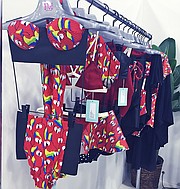 Entering into a vacation state-of-mind is precisely why attendance at SwimShow may be up, said Executive Director Judy Stein.
"I think people just recognize they need quality time off, and there's nothing more serene than being at the beach," she said. "That's why swimwear will always continue to do well."
Swimwear is also getting a big boost from social-media influencers, said fashion publicist Cece Feinberg.
"All of their fans see them in swimsuits, and they want to run out and buy them immediately," she said. "I think that's a big driver of the industry."
Traditional retail brands and industry household names are taking notice of swimwear's potential for profitability. Tapping into the market this year, Nicole Miller debuted Le Plage by Nicole Miller, a new swimwear collection at SwimShow. Using some of her own social-media stature, model–turned–fashion empresario Heidi Klum also launched a new swimwear line, which featured classic shapes in elegant colors and minimal patterns. Other fashion celebrities whose lines were featured at SwimShow included Elizabeth Hurley Beach and ále by Alessandra hats and bags, designed by Victoria's Secret model Alessandra Ambrosio.
Also new at the show this year was the Collection exhibition hall, a curated selection of emerging and established designer brands chosen by SwimShow organizers and placed strategically in the center of the exhibition floor. Collection brands were higher-end, boutique brands that included Maaji, Agua Bendita, Liliana Montoya, Agua Clara, Amir Slama and Bond-eye Australia, among others.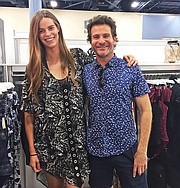 While some exhibitors reported slow traffic, those offering the most on-trend looks enjoyed a packed booth throughout the day. This year, boho-inspired and retro styles dominated the floor. High-waisted styles, crochet fabrics, bold prints, and tassels, pompoms and ruffles adorned suits and accessories from TM Rio de Janeiro, JADETribe, Z+L, Chio and Nimie. SwimShow organizers also noted that double-duty swimwear—suits you can wear poolside and pair later with a pair of jeans for a night out—were a popular trend among buyers this year.
Most brands noted that the business of swimwear has changed over time, with buyers attending the trade shows to view the collection and take note of which styles they'll likely purchase. Renato Thomaz, the sales and marketing manager of luxury Brazilian swim and resortwear brand Água de Coco, said he mostly took appointments at the show and used his time there to reconnect with current clients and get them excited for the new season's offerings. "We have so many different styles to choose from, so our buyers come to take a look and see what they like," he said. "Most orders are made after the show."
After orders are formally placed, Água de Coco's Resort 2017 will deliver in October or November.
SwimShow has traditionally been very appointment-driven, though some buyers do attend in search of something that's a departure from their usual offerings. A women's contemporary buyer from Southern department store Belk said she scheduled a few appointments at the show. But mostly she said she was in search of something new. "Anything new we've put on the floor this year has gone flying off the shelves," said the buyer, who requested that her name not be used.
Additionally, plus-size styles are becoming more and more popular as retailers seek to be more inclusive of different shapes and sizes. Plus-sized model–turned–swimwear designer Robyn Lawley showcased her Spring/Summer 2017 collection at both SwimShow and satellite event Hammock this year. "This show is really about making connections, and we've made some great contacts and had tons of positive feedback," Lawley said.
SwimShow is expected to return to the renovated Miami Beach Convention Center in 2017.