As of Thursday, June 16, 2016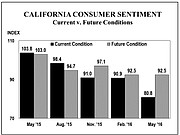 California consumers might be feeling a little more pessimistic about the economy right now, but the future looks a bit brighter.
According to a survey conducted by the A. Gary Anderson Center for Economic Research at Chapman University, California residents' feelings about the economy were influenced by an anemic growth rate in real GDP during the first quarter of this year. They were also affected by a job market they felt had stalled and talk by the Federal Reserve that the economy isn't on a strong footing yet.
The California Composite Index of Consumer Sentiment, conducted by the university in Orange, Calif., declined for the fourth consecutive quarter to 90.5 in the second quarter of 2016, down from 92.4 in the first quarter. An index level below 100 indicates a higher percentage of pessimistic consumers versus optimistic consumers.
Even taking a bigger dive was the current economic conditions index, which hit 80.8 in May, an 11.1 point decline from the revised reading of 90.9 in February.
On the positive side, the index measuring consumers' planned spending on big-ticket items is higher than three months previously. In May, it was at 106.0 compared to 95.1 in February. This means consumers might be spending more over the next six months, but it is the opposite of their current outlook.