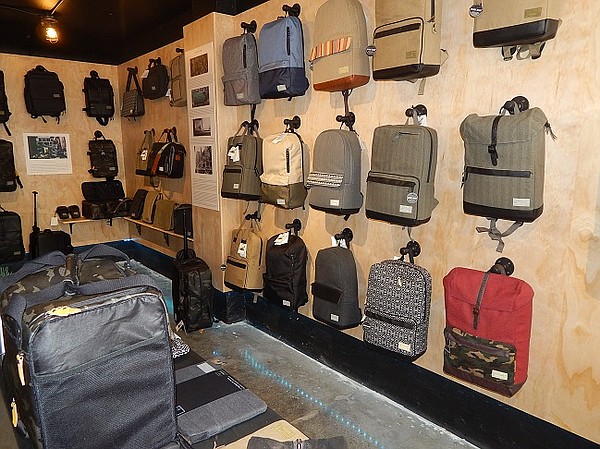 RETAIL
Hex Opens First Store on Broadway Near Tower Theatre in DTLA
In a space that some people might consider a walk-in closet, Hex, the L.A. company that makes tech accessories such as cool backpacks for carrying your computer, has opened its first bricks-and-mortar store after selling online since 2010.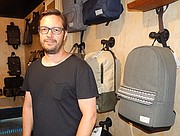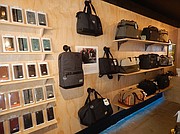 The 300-square-foot space at 804 S. Broadway is on a block that is becoming increasingly hip. Rumor has it that an Apple store will open next door to Hex at the Tower Theatre, and down the block are Acne Studios - the Swedish high-end retailer - Urban Outfitters and Tanner Goods.
Hex cofounder Trent Valladares said having an outpost selling the label's canvas bags, backpacks, convertible totes, computer sleeves and sneaker duffels is a way to reach out to customers. "I think it is important for brands to connect directly with their audience," he said. "It is nice to have a place to come and see the product and understand the brand. Also, we just really like downtown."
The store, as small as it is, will be used for events to showcase photographers' and artists' works.
Valladares has been in the accessories business for a while. His family has owned August Accessories in Oxnard, Calif., for 26 years. He joined forces with his brother-in-law, Dan Maravilla, to start Hex, whose goal was to create timeless products for modern living. Their backpacks and other goods are featured in artistic photos taken in out-of-the-way spots.
Many of their backpacks and other accessories that sell for $35 to $300 are made of waterproof canvas and have faux fur-lined pockets and foam to protect computers and other valuables. Their designs are very hip and clean.
My favorite is the leather iPhone case that has slots on the side for carrying your credit cards. That keeps it all very compact.