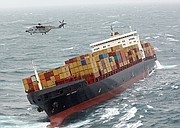 Last year, apparel and textile importers saw millions of dollars in profits sink as congestion at the West Coast ports kept merchandise stuck on boats for weeks.
That problem was resolved, but now another logistics storm is brewing.
Starting on July 1, new regulations make it mandatory that shippers—and only shippers—verify the gross weight of their cargo containers or they won't be loaded onto ships. In the past, weight amounts could be provided by other entities.
The ruling, issued by the International Maritime Organization in 2014 and being implemented soon, has created confusion and uncertainty among exporters, importers, port terminal operators, logistics experts and anyone else involved in the global shipping industry.
"There will be pain associated with this," said John Butler, president and chief executive of the World Shipping Council, a trade group for container shipping line carriers. "There will be an adjustment period as people work this out."
Maersk Line, the largest container-shipping operator in the world, said it anticipates a bumpy six months after the rules go into effect on July 1.
In addition, a survey last December of 410 companies by container booker Inttra Inc. noted that 30 percent of those surveyed said they expected their company or customers will be prepared for the regulations, 48 percent said they have their doubts, and 10 percent said they wouldn't be prepared.
Sixty-six percent said they expected either a moderate or major disruption in the industry, which would most likely happen in the Asia-Pacific arena, followed by Africa.
Because the U.S. economy is so dependent on imports from China and other overseas locations—with more than 95 percent of apparel and textiles coming from foreign vendors—there could be some disruption in receiving goods in a timely matter.
"The biggest concern for retail folks is on the import side. There has been a lot of attention put on U.S. ports, but the issue is at the overseas ports," said Jonathan Gold, vice president of supply chain and customs policy at the National Retail Federation. "Less than two dozen of the 162 member nations [in the International Maritime Organization] have issued guidance or regulations for enforcement. It is very different in each country. There is no harmonization. …With uneven implementation, that throws unease into the industry."
A weighty matter
In 2014, the International Maritime Organization, a United Nations agency responsible for setting international shipping safety standards, amended the Safety of Life at Sea (SOLAS) regulations to make container weighing mandatory by shippers. In the past, containers have either been weighed by terminals before they were loaded on to ships or weight estimates were provided by various parties involved in transporting the containers.
This could lead to less-than-precise weights being given, which could contribute to cargo-container ships tipping over or sinking. Accurate weights are needed to figure out how to stack container ships—with heavier containers on the bottom and lighter containers on the top.
One of the accidents that prompted this new regulation was the MSC Napoli, a cargo-container ship that in 2007 became grounded a mile out to sea in the English Channel. About 200 of the vessel's 2,323 containers went overboard. Of those, about 100 containers landed on Branscombe Beach, where scavengers dredged up carpets, steering wheels, shoes, golf clubs, beauty creams and motor bikes as goods washed ashore.
Cargo-container carriers and maritime unions asked that more regulation be enacted to make the shipping industry safer.
In the United States, major cargo-container terminals—including the 13 at the ports of Los Angeles and Long Beach—weigh containers before loading them onto ships. This is to comply with regulations set forth by the Occupational Safety and Health Administration, the U.S. agency in charge of enforcing health and safety legislation.
It seemed simple that this practice would continue. But shipping lines said they would not accept the cargo weights provided by the terminals as the verified weight. It had to come from the shippers.
That changed on June 17, when 19 major ocean carriers that belong to the Ocean Carrier Equipment Management Association said they would accept and load containers weighed at U.S. ports and marine terminals. Terminal operators could forward the weight measurements to the ocean carriers on the shipper's behalf. Shippers using this system do not have to provide a signature to the ocean carrier for each container. This method bodes well for terminals and ports that have weighing capabilities, but many smaller U.S. ports don't have the necessary equipment.
So a new industry is popping up—weighing facilities en route to smaller ports. For example, SalSon Logistics, a freight forwarder in Newark, N.J., said it would be charging $10 a unit to weigh containers at its new weight-verification location near the Port of New York/New Jersey.
Four terminals operated by Hutchinson Port Holdings at the key Mexican ports of Lazaro Cardenas, Manzanillo, Veracruz and Ensenada will weigh containers for around $30 a container after receiving a 48-hour notification.
Those with no access to scales can use one other method approved by the International Maritime Organization. Shippers can weigh all the packages and cargo items that will be packed into the container and then add the mass weight of the container to come up with a total weight.
Beverly Altimore, executive director of the U.S. Shippers Association, said she still expects some hiccups in the system when it goes into effect July 1. "The problem is that there are only a handful of countries in the world that have even acknowledged the IMO regulations. Canada and the United Kingdom have strict rules as well as Japan. China has something that is real wishy-washy. And Singapore and Panama, which have a lot of carrier-flag ships, haven't acknowledged the IMO rule," she said.
Robert Krieger, president of international freight forwarder Krieger Worldwide in Los Angeles, isn't worried about sending containers out of U.S. ports but is concerned about overseas terminals where cargo containers may not be loaded onto ships because they haven't been weighed before arriving at the docks. "I can't tell whether China will have a uniform standard or each port will enforce its own standards separately," he said. "I don't think ships will be delayed, but individual containers may be delayed if they don't have the correct weight information."
The good news is that the IMO recently said it would grant a three-month grace period and relax enforcement, instructing regulators to take a practical and pragmatic approach when enforcing the new rule until Oct. 1.
"The IMO is saying there will be leniency for the first three months," Gold of the NRF noted. "But if you have a carrier that says, 'As of July 1, if I don't have a container weight, I won't load,' that is different. There are a lot of questions on what is going to happen on July 1."