TECHNOLOGY
Epson Acquires 100 Percent Stake in Italian Textile Printing Firm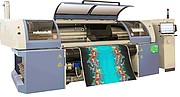 Epson Italia S.p.A., the Italian subsidiary of printing company Epson, is acquiring a 100 percent stake in the Italian textile printing business Fratelli Robustelli S.r.l.
Epson has worked with Fratelli Robustelli to provide digital inkjet technlogy since 2003. The company is anticipating the acquisition to drive synergies and provide added value at a time when the digital textile printing market is expected to grow by 25 percent annually, according to the company.
Based in Como, Italy, Robustelli develops, manufactures and sells digital inkjet textile printers, including the Monna Lisa series, which it began developing with Epson in 2003. Epson provides inkjet technology such as printheads and ink for Robustelli's digital textile printers, including the Monna Lisa. The companies have been working together since that time "to promote digitalization by building the total solution support structure from development through manufacture, sales, and after-sales support," the company said.
As a result of the deal, Robustelli will join the Epson Group and tap into Epson's manufacturing capability, expanding its offerings to more customers around the world. Epson will be able to use Robustelli's expertise to develop digital inkjet textile printers and offer customers a wider lineup of products. Together, Epson and Robustelli plan to focus on joint R&D efforts. Further, Robustelli products will be sold by Epson's worldwide sales and service network.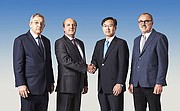 "This is a very exciting development for the Epson Group," said Sunao Murata, chief executive officer of Epson's professional printing operations division, who has been named president of Robustelli. "As the market for high-quality digital textile printing expands, I believe that formalizing our partnership with Robustelli in this way puts us in a great place to meet the needs of the growing numbers of customers who are seeking to leverage the advantages of advanced digital solutions that will help drive their businesses forward. We will work closely with our colleagues at Robustelli to take Monna Lisa to the next level and remain leaders in the field."
Valerio Robustelli, one of the proprietors of Fratelli Robustelli, said he was pleased for his company to join the Epson Group.
"Our cooperation with Epson led to the development of Monna Lisa, an industrial digital textile printer that is today a market benchmark for high-quality textile printing," Robustelli said. "The combination of our respective skills is the natural conclusion of a process of innovation to satisfy customers in Italy and the rest of the world."
Epson Italia is part of the Epson Group, which will oversee the acquisition and partnership with Robustelli. Epson Italia handles sales and marketing of Epson products in Italy and oversees sales in Turkey, Greece and the Balkan area. The Epson Group is part of Seiko Epson Corp., which is based in Japan. The company's U.S. division, Epson America Inc., is based in Long Beach, Calif.