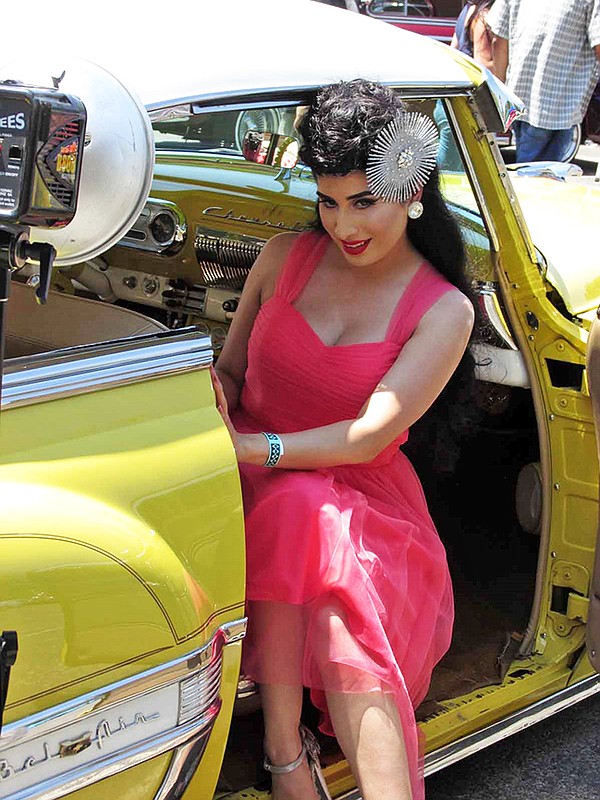 LOWRIDERS & PIN-UPS
Lowriders and Pin-Ups at L.A. Classic Car Show
The Los Angeles Classic Car Show, presented by Bombs Magazine, roared into Southern California recently, drawing a stylish crowd obsessed with vintage design.
Stylist Estevan Ramos was at the June 26 event at the Industry Hills Expo Center in City of Industry, Calif., with his cousin Arnold Ontes, owner of LA lifestyle brand Movin' Violation.
Ramos was commissioned to design mechanics suits and custom T-shirts for Movin' Violation. Shot by famed lowrider photographer Takashi Kikuchi, the images are to be used for a special-edition calendar and other social-media purposes. Ramos and Ontes developed special T-shirt graphics with the Tovar Brothers, who are among the country's top customizers of early-model 1930s and '40s cars. The Tovar Brothers were featured at the Movin' Violation booth along with calendar girls Candace and Angie.
While at the car show, stylist Ramos—armed with his camera, as usual—captured the scene, which brought together some of his obsessions: vintage classic cars, beautiful pinup girls and Mexican culture. Ramos created a fashion-meets-car-culture story that pairs pinup girls with vintage cars.
"The beauty of it all felt like old Mexican cinema of the '40s and '50s," said Ramos, who said he is always inspired by his Mexican and Chicano heritage in all things creative, from fashion and art to music and culture. "My heritage always reflects off beauty, class, pride and family," he said.
For more information about Movin' Violation, visit www.movinviolation.com. Information about Ramos can be found at www.estevanramos.com.
RELATED STORIES