EVENTS
Sue Wong Archive Sale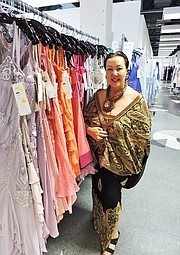 Los Angeles–based eveningwear designer Sue Wong, pictured left, is in the process of shifting her business to a licensed operation and has been hosting a series of archive sales at her headquarters in Los Angeles. At the first event, held June 24–25, the designer was on hand to meet with shoppers and offer suggestions—as well as a little backstory on some of her favorite pieces.
In addition to red-carpet and cocktail gowns, the sale includes embellished scarves, evening coats and applique swatches as well as art and furniture.
Wong is hosting another event over the July Fourth weekend on July 1–2 from 9 a.m. to 6 p.m. She is offering private appointment shopping as well. To schedule an appointment, call (213) 388-7400 or email luke@suewong.com.