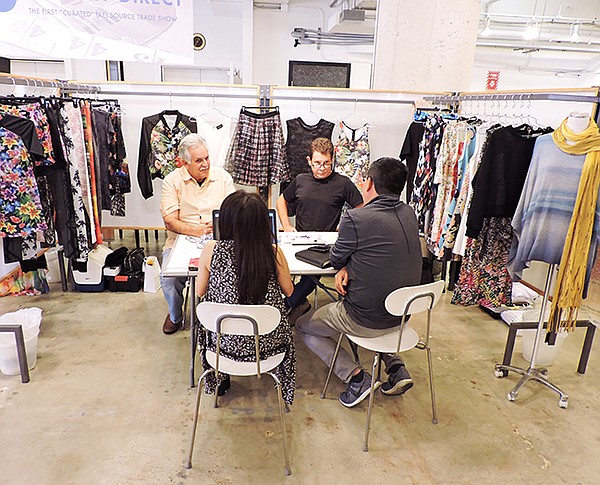 LOW-MOQ SOURCING
Factory Direct Returns for 3rd Season With Production Resources for Small and Mid-Sized Companies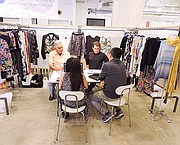 Sourcing trade show Factory Direct returned for its third run at The New Mart with a tightly curated mix of factories, design development houses, technology providers, and other resources for small- and mid-sized apparel companies.
Several exhibitors were back for their second or third time at the show. Ted Houston, president of Polygon Solutions Inc., has been showing at Factory Direct since the show launched. The Long Beach, Calif.–based company provides companies with logistics and back-office support.
With his prime spot right at the entrance, Houston joked that he was the trade show's greeter. But location gave him a vantage for gauging show traffic, which he said was good on opening day.
Another returning exhibitor was Rich Honey, a Los Angeles–based vertical manufacturer and garment dye house that has been on a growth tack. The company recently opened its second warehouse, said company representative Gaby Llerena. Rich Honey's focus is primarily apparel, but the company has also seen its accessories business growing.
"A lot of customers weren't aware that we also do custom leather bags," Llerena said.
Showing at Factory Direct provided the opportunity to meet new customers and network with others in the industry, she said.
This was the second season for Top Culture, a private label and custom apparel maker in downtown Los Angeles, said Tony Tseng. The 2-year-old company makes quick-turn cut-and-sew knits and caps.
"Last year was good; I picked up a few clients," Tseng said.
Lefty Production Co. is another design development house based in downtown Los Angeles. Owner Marta Miller started the company after having her own maternity clothing line.
"I really like building new brands and helping them navigate the industry," she said. "It's hard to navigate in LA. You could literally live in your car."
Factory Direct founder David Dea said part of the mission of the show is to help smaller companies get up to speed quickly.
"When you start as a small brand, you go from initial patterns to production patterns to marking, cut and sew, dyeing, washing, quality control, and pack. It can be 10 places you have to visit," he said. "Why don't you pay a little more and go to JS Apparel or a Tipsy [Inc.], which will do all the running around for you? Then you can focus on designing and selling your product."
Dea said representatives from Pacific Sunwear visited the show again, and Nordstrom came to meet with one of the vendors. Representatives from Kate Spade were also scheduled to attend.
Most of Factory Direct's exhibitors were domestic factories, but Dea said he's looking to bring in offshore factories as well—provided they meet certain criteria.
"We're trying to work with international, but we're picky about who we work with because of the MOQ [minimum order quantities]," he said. "If it's over 1,000 units per style, per color, your brand can go directly to China. This show caters to those small- to mid-sized guys."