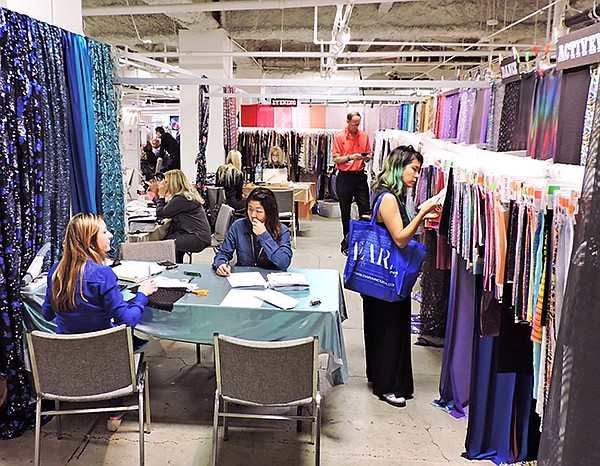 SCOUTING FOR TEXTILES
Light Traffic, 'Enthusiastic' Buyers at LA Textile Show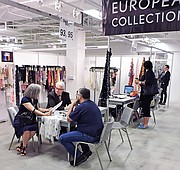 The traffic reports were mixed, with some textile mills and representatives saying the last day was busiest at the Los Angeles International Textile Show, held Feb. 29–March 2 on the top floor of the California Market Center.
This was the first time showing at the LA Textile Show for Raphael Javaheri, owner of Los Angeles–based Ecotex, after several seasons
away.
"Yesterday we were busy and today was good," he said on the last day of the show. "Overall I'm happy we exhibited. The last few times we showed, it wasn't as busy."
Javaheri said he found a lot of demand for fine knits, novelties and Immediate deliveries.
"It doesn't have to be made in America, just inventoried in LA," he said.
For Los Angeles knitting mill Mansfield Textile, domestic production is key. Warren Zaretsky, vice president of sales for Mansfield, described the traffic at the show as "moderate" but "enthusiastic," adding that he's "enthusiastic about future business."
"We're building more volume with clientele looking for made in America, quick turn and competitive pricing," he said.
Los Angeles knitting mill Design Knit was busy starting on Monday afternoon.
Pat Tabassi, Design Knit marketing manager, said she saw a mix of existing customers and prospective new ones in addition to "some customers we've tried to work with for several years, and it's now coming to fruition."
Tabassi said it's difficult to gauge the value of exhibiting at a trade show immediately.
"It can take at least six months—at a minimum—to really get a sense of if this is going to go to duplicate yardage or production. You need to feel a sense of comfort with who you're working with, who can help you connect with garment dyers or cut and sew. It's really a partnership with clients."
For Marty Moran, chief executive officer of Jefferson, Ga.–based Buhler Quality Yarns, the textile show is an opportunity to help educate designers and manufacturers about Buhler's yarns and provide information about which textile mills use Buhler yarns.
"We're getting a lot of inquiries about Modal right now," he said. "They want to know the difference between rayon and Modal. Modal is the more sustainable story. There's that environmental consumer also asking about organic cotton. Also, we do a blend of Supima cotton and MicroModal. We're running a lot of that right now."
Phil Fox, owner of Fox Fabrics, said he was seeing both regular customers as well as potential new ones, including designers and piece-goods buyers from activewear companies such as Adventure 16, Under Armour and UltraCore.
For French lace mill Solstiss, the show started "quite busy," according to Executive Vice President Sandrine Bernard, then dropped off on day two, only to pick up again on the last day of the show.
Still, she said, she saw good brands and landed several good orders.
This was the third season showing at LA Textile for Los Angeles–based Rimmon Fabrics, a family-owned business that represents several mills and buys and sells fabrics from high-end labels such as Rodarte, Monique Lhuillier, Corey Lynn Calter, Emil Rutenberg and Burning Torch.
Rimmon specializes in high-end fabrics and low minimums.
"Most are 10- or 25-yard minimums. Nothing is over 50," said Dan Rimmon, who runs the business with his sister and brother. One of Rimmon's collections is Blue Star Silk, which offers high-end silks with a 1-yard minimum. "For people looking for small quantities, we're the secret source on the Westside," he said.
Rimmon also represents Oracle Textiles, which includes bridal and eveningwear fabrics; Berenstein Textiles, which offers everything from silks to wools to bridal; Eusebio Sanchez, Spanish embroidery and bridal mills that provide fabrics for the Spanish royal family; Liberty London's woven prints in small quantities and two eco-friendly collections: Cloud 9 organic cotton prints and Pickering organic and sustainable knits and wovens.
Last season, Rimmon's booth was in the middle of an aisle, but this season the company's booth was on the end of a row.
"It makes a difference," Rimmon said, describing traffic as "decent."
"We got a few people who wrote orders," he said.
John Marshall, owner of Los Angeles–based JM International, was showcasing several mills in the textile show's European section, including Malhia Kent, the French mill known for its elaborate tapestry prints in bold colors. This season, the company started offering styles with stretch. Marshall said he was already getting interest from swimwear companies.
This was the first season at LA Textile for Italian embroidery house Ricamificio Levi, said company representative Paola de Marchi. Ricamificio Levi has some customers in New York but wanted to test the California market, de Marchi said.
The company was showing a silk embroidery over a fine nylon mesh, embroidered jersey for the swimwear market and an embroidered 3-D tulle fabric for the lingerie market.
French lace mill Darquer recently bought Central Encajera, a Spanish mill known for making mantillas. Darquer was at LA Textile with several new innovations, including a "three-dimensional lace" that had delicate lace pockets woven into the fabric. Another new development was a tartan style that mixed traditional lace with reflective tape.
Olivier Pelleray was at the show with FCN Textiles, a company created by the designers and production staff at Lyon, France–based TBM Soieries, which closed in 2010. Pelleray recently acquired FCN Textiles with Mike Bennett of Bennett Silk and, as a result, acquired TBM's archive of more than 10,000 designs.
"We're bringing TBN back to America," Pelleray said.
The first day at LA Textile was busy, Pelleray said, but added that the timing of the show is not ideal.
"It's a little too early in the season," he said. "Clients are not exactly ready to start this soon."
Richard Mannion, managing director of British embroidery and lace house Bella Tela, works with a few customers in Los Angeles such as bridal and eveningwear designer Mark Zunino.
Bella Tela offers machine and hand embroidery for high-end designers such as Mark Zunino and Elie Saab.
Minimums are low—from 7 meters to 12 meters—and styles can be quite elaborate. Mannion said last season there was a fabric in the collection that featured 6,500 flowers in a single meter.
"Every season we catch another couple of customers, but it takes time," Mannion said. "Our [existing customers] want us to visit at the end of the day. The shows are for trying to catch someone new."
RELATED STORIES