As of Thursday, March 10, 2016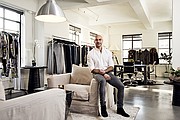 LEBEL GROUP
Cooper Design Space, Suite 521
(310) 402-8072
Marco Lebel has a long history at the Cooper Design Space. He spent more than a decade with Robert Rodriguez, which was headquartered in the building, and he helped Australian Fashion Labels establish its U.S. presence with its first LA office at the Cooper. But when he opened his own showroom, Lebel Group, he started out at the Eastern Columbia Building, the turquoise art-deco building located just one block west of the Los Angeles Fashion District.
Last fall, Lebel returned to the Cooper where he opened a 1,000-square-foot space on the building's fifth floor.
"I felt it was the right space for me, bringing elevated contemporary collections from Europe," he said.
Lebel Group carries a mix of high-end European collections, including Filles a Papa, an advanced contemporary line from Belgium; Brockenbow, a denim collection from Paris; Italian collection Ainea; NO8 Stockholm, a line of fur-lined parkas from Sweden; WLNS Wellness Cashmere from Italy; Amatør from Amsterdam; and 8PM from Italy.
"Designer stores and advanced contemporary stores are looking for new and elevated products they will not find everywhere with an amazing value proposition," Lebel said.
Lebel Group's collections range in wholesale price from $45 to $1,000.