SHOWROOM PROFILE
Showroom Profile: the M Showroom and Michael Bush/LA-Apparel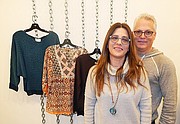 The M Showroom and Michael Bush/LA-Apparel
The New Mart
Suite 406
Michael Bush/LA-Apparel
(213) 689-9150
The M Showroom
(213) 688-5033
For several years, Melina Avakian and Michael Bush had showrooms across the hall from each other on the second floor of the California Market Center.
But when they got notice they would have to vacate their showrooms because the building owners were converting the second floor into exhibition space, they decided to move across the street to The New Mart and share a showroom.
They completed their move in January in time for the first Los Angeles Fashion Market of the year. "This was a good, exciting move for us," Avakian said.
Bush said that 25 percent of the stores that walked by during the January fashion market were new to him.
Sharing a space instead of staking out individual territory made sense for the two showroom owners. "Our groups of lines don't compete but complement each other," Bush said.
The four lines carried by Avakian are more casual and meant for the weekend or after-work hours. Bush has three lines that are more professional daywear that can transition into after-hours activities.
The all-white showroom with polished concrete floors is divided down the middle by tall worktables. To the right are Avakian's four lines: Inoah, Olive Hill, Zaria and Wyldson.
Inoah, made in Los Angeles, is a group of easy-to-wear pieces with fun, funky prints that wholesale for $32 to $68. "You can see this on every age group," Avakian noted.
Olive Hill, based in Los Angeles and manufactured in Vietnam, is a mixed-media top line with happy prints that have a boho feel. They wholesale for $24 to $26.
Zaria has fun sweaters, faux-fur jackets and Sherpa-style jackets that wholesale for $30 to $40, and Wyldson, a label based in Carlsbad, Calif., makes print-driven maxi dresses and wide-leg pants manufactured in Bali, Indonesia. They wholesale for around $30.
On the other side of the showroom are Bush's three lines: Insight, Maude Vivante and Nikki Jones.
Insight is a group of related separates built on a good pant business paired with jackets, blouses and the occasional dress. "It is great value for the better customer," Bush said of the line, whose pants wholesale for $36 and jackets wholesale for $59 to $76.
Maude Vivante—a line dominated by novelty textured tops, trendy jackets and vests—is designed in Spain and manufactured in China and India, wholesaling for $38 to $49.
And Nikki Jones, based in Montreal, focuses on stylish outerwear that wholesales for $60 to $118.