As of Thursday, March 31, 2016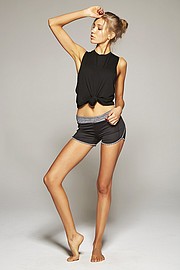 Fashion veterans Cedric and Yves Benaroch, the creators of 2B Free clothing, made a mark with Hollywood's celebrity sensations in early 2001.
The brothers were inducted into the industry early on, thanks to uncles Charles Elkaim, who worked at BCBG, and Albert Elkaim, who works at Buffalo Jeans.
The heavily graphic loungewear of 2B was a precursor to the debut of their new line, Yeba, which stands for "You're Everything Beautiful Always," and exclusively launched on their website in March. Yeba's women's activewear collection has the creative punch and avant-garde designs that 2B was known for but with a fresh twist. "We love color, always have. Even in the past, we wanted the girl who wore our clothing to feel confident and sexy. Same applies with Yeba," Cedric Benaroch said.
The duo set out to produce a current and trend-setting athleticwear line constructed with ultra-soft, luxe fabrications and styles that offered versatility and functionality that could transition from day to night.
"We definitely feel activewear/athleisure is in the same family and is a natural transition from loungewear. We feel there is a huge gap in the activewear world when it comes to being fashion forward yet comfortable at the same time. Our goal is to give women the confidence to look and feel great from workout to hangout. You work out to look great; why not look great while working out," Yves Benaroch said.
The brothers cull inspiration mainly from nature—sunrises, birds and other wildlife. "You'll see a touch of this in many of our designs," Yves Benaroch said. The collection consists of leggings, crop to full length, as well as T-shirt tanks and sports bras featuring solids and brushed patterns that include ombré color variations, graphic lines, sheer cut-outs and a retro splatter of color, which adds a stylistic element. As a nod to nature, some of the bottoms feature tie dyes, flocks of birds and animal prints. "We would describe Yeba as an edgy yet feminine, vibrant, flattering activewear line," Cedric Benaroch said.
The lightweight fabrics, ranging from nylon and spandex to polyester, offer breathability and wick moisture properties as well. Certain fabrics and washes combined, as well as special softeners, are used for added support and comfort. All fabrics and pieces are sourced locally in Los Angeles with retail price points ranging from $45 for a sports bra to $138 for long pants.
For sales information, contact info@yebaclothing.com.