RETAIL
Fraser Ross Prepares for Retail Return with Kitross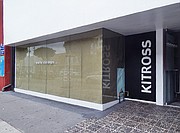 Retailer Fraser Ross, the founder of the retail chain Kitson, is returning to retail with Kitross, which is set to open in his original 5,000-square-foot space on Robertson Boulevard in Los Angeles.
Ross is currently renovating the place with a new black-and-white color scheme and lining up merchandise, which will be a mix of new brands as well as labels he carried in the past.
"I decided this two weeks ago," Ross said. "Maybe by August I'll have the assortment I want. Vendors don't keep merchandise on hand like they used to."
Ross said he's hiring several former staffers, including one who was with him in Kitson's early days.
"If you have one store and great staff, it's easy to manage," he said.
Kitross will carry accessories and apparel for women, men and kids as well as gift items. Like Kitson, the new store will focus on pop-culture merchandise.
"Pop culture is a very complicated business to run," Ross said. "You have to live and breathe it every day."
Ross opened the first Kitson store in 2000 on Robertson Boulevard. Over the years, the store expanded to include 17 bricks-and-mortar locations and an e-commerce store (www.shopkitson.com).
Ross said he left Kitson last fall after serving as a consultant to the retail chain for six months.
In December, the chain unexpectedly announced the closure of all stores and the online store, following an investment from BHK Investments LLC, an affiliate of Spencer Spirit Holdings Inc., a 650-store fleet of mall-based novelty gift shops Spencer Gifts and Spirit Halloween Superstores.
On a recent Saturday, Ross said he saw a steady stream of traffic on Robertson with several people stopping by the Kitross space to ask where they could find the Kitson store.
"There needs to be more stores with an LA vibe," Ross said. "LA is a brand like New York is a brand. There are not enough people promoting LA in retail."