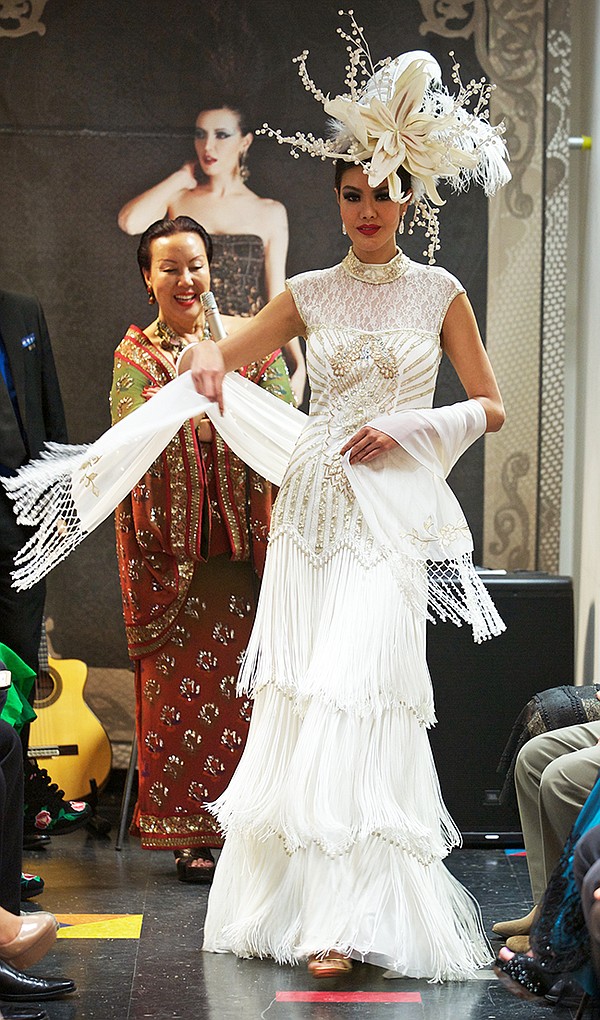 SUE WONG
Sue Wong Shares Story, Archival Pieces at FGI Event
Photo Gallery
Sue Wong Shares Story, Archival Pieces at FGI Event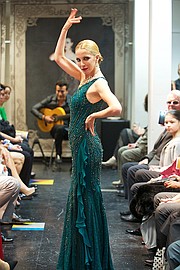 Sue Wong is preparing for the next chapter in her career. The Los Angeles designer recently inked a licensing deal for her namesake eveningwear collection and a new day-to-eveningwear collection with DNAM Apparel Industries LLC.
DNAM Chief Executive Officer Henri Levy has a long history of apparel production for brands such as Sharagano, Ed Hardy, Christian Audigier, YMI Jeanswear and 6126.
On May 2, Wong shared details from her 40-year career at an event organized by Fashion Group International of Los Angeles. Held at Wong's Los Angeles design studio, the event also featured an intimate runway show of pieces from the Sue Wong archive—an archive Wong estimates includes 10,000 garments.
Wong began designing professionally when, at 19, she opened a boutique selling her own designs. Los Angeles manufacturer Arpeja hired Wong as chief designer of the company's Young Edwardian label.
"By the time I was 25 I had accomplished the American dream," Wong said. "I had four homes. I was living the glam life. By the time I was 30 I had lost it all. Divorced with two young babies and parents to take care of."
In 1985, Wong launched the first incarnation of her own business: the Sue Wong collection of contemporary dresses. But Wong said she knew little about running a big business at the time.
"I thought I was invincible," she said.
The second chapter was in 1999, when Wong launched Sue Wong eveningwear.
"I designed 25 gowns on a fluke," Wong said. "My designs flew out of stores like hot cakes, and, voilà, a new business was born."
Wong said she views conflict and adversity as blessings in disguise.
With her eveningwear collection, Wong wanted to offer women affordable designs with special couture details. "I consider myself every woman's couturière," she said. "Creativity is a vertical fountain of ideas. I am truly prolifically blessed. The well always overflowed."
Wong said she typically designs 1,500 pieces each year.
"Fashion is the fastest moving of all art forms," she said. "The velocity and speed [of fashion] is staggering. Architecture [changes] every decade. Music every six months. Fashion every two months."
With the licensing of her collection, Wong will continue to design the line but will no longer oversee the day-to-day details of manufacturing and delivering the collection. She will be free to pursue other creative interests, including interior design and architecture.
"I was born an artist and chose fashion as my creative medium," she said. "Interior design, furniture, gardening, design, painting, drawing, cooking, creating experiential fashion shows—it's all creative energy and it all comes from a divine source."
For aspiring fashion designers, Wong warned, "Be prepared to work hard. Ninety percent of the time it is not glamorous. It is 100 percent commitment and requires significant ambition to follow through. The talent must overwhelmingly be there. Only the best, most dedicated and focused will survive."
Wong said the next chapter of her life is "the most pivotal segment of all: to build the Sue Wong global licensing empire."
Despite the challenges along her career path, Wong said she wouldn't have it any other way.
"I believe there's a divine sense of purpose in everything that comes our way," she said. "I lost everything that I built twice and twice I rebuilt everything stronger than before."