As of Friday, May 20, 2016
Rodarte designers Kate and Laura Mulleavy received honorary doctorate degrees from the Academy of Art University on May 11 at the San Francisco design school's graduation fashion show. Academy of Art University President Dr. Elisa Stephens presented the Mulleavys with their honorary degrees as well as a certificate of honor from the office of San Francisco Mayor Edwin M. Lee.
The runway show featured collections by Academy of Art students majoring in fashion design, knitwear design, menswear design, technical design, textile design and jewelry/metal arts as well as the SHOP657 Collection, a private-label collection created by fashion design, textile design, jewelry and metal arts and fashion merchandising students created by Cherish Bai, Jayme Goodman, Meeneshwer Madhu, Sylvia Rivera, Soji Solarin, Yuki Zhang, Yun Ling Tham Timmy and Neysa Makizuru. The SHOP657 Collection was made from repurposed and locally sourced materials. For inspiration, the students mixed the animated film "Alice in Wonderland" with a commute through San Francisco's Tenderloin district. Following the show, several pieces were selected to be produced for sale at SHOP657, the San Francisco retail store run by the Academy of Art school of fashion.
For her runway collection, fashion design student Wen Jiang was inspired by architecture and the work of Munich-based photographer Nick Frank to create her color-blocked collection of wood pieces.
Menswear design student Annie Yang looked to the work of Brazil-based artist Daniel Steegmann to create a collection of oversized, multilayered garments. Yang worked with textile design student Jasmine Juewei Xu, who layered cotton twill and cotton sateen with baby powder to create a textile with a fading texture.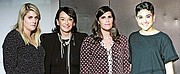 Fashion design student Xiuzhen Li explored "the notion of decay," looking at the patterns of "growth and deterioration" to create a collection of layered pieces of lace and felt. Li's pieces also featured beading work done by fashion design students Alvin Ang and Amy Tzu Chen Hsu.
Fashion design student Vanessa Nash-Spangler was inspired by the Fibonacci sequence and hexagons to create her brightly colored collection of tulle, silk and organza embellished with oversized ruffles and flowers.
Fashion design student Busara Boussard combined the "colors, shapes and architectural details of the EPM Museum in Seattle" with lacrosse uniforms and equipment for her color-blocked menswear collection. Boussard worked with jewelry/metal arts student Eirin Midtskogseter, who created shoulder and arm jewelry to complement Boussard's designs.
Menswear design student Ben Ellis was inspired by French artist Andre Derain to create a men's line made from denim and jersey, including repurposed fabric from thrift stores and donated T-shirts.
For her collection inspired by Antelope Canyon and the Hopi tribe, fashion design student Sophie Cheng laser cut and etched patterns on the garments, which featured hand-dyed ombré string details, draped details and ruffles.
Fashion design student Karin Kate Wong's collection combined comfort and sexuality with silky, soft fabrics in draped and backless silhouettes accented with silver lamé and tie closures.
Inspired by the translucent fabric sculptures of Korean-American artist Do Ho Suh, menswear design student Ke Zhang created a tailored collection of menswear inspired by pajamas and 1900s men's undergarments.
Fashion design student Febri Artha Jayanti worked with knitwear design student Rebecca Dovenryd Almberg for a collection of structured and tailored pieces inspired by American artist Valerie Hegarty as well as the habits worn by early-20th-century nuns.
For their collaboration, fashion design student Regina J. Yoon and textile design student Jadi Haynes created a collection inspired by "the styles and ideologies of ancient and contemporary Korean shamanism," made in cotton, laser-cut faux leather and broderie anglaise with beading done by fashion design student Jessica Victoria Wijaya.
The oversize silhouettes of '90s hip-hop combined with the 1970s-era Chinese anti-gravity pilot suits inspired menswear design student Brandon Kee for his collection, which featured yellow jacquard jumpsuits, washed violet pants and light-pink coats.
Fashion design student Jiaqi Lu used crepe silk and textured cotton to create a sculptural collection inspired by 3-D printing and origami.
A blending of the lines between masculine and feminine inspired the collaboration between menswear design student Justin Moreno and textile design student Namrata Bhandari, who took inspiration in the "swirling floral fabric typically seen on the skater girls in Kabul" for a collection of "street-luxe" fashion.
Fashion design student Celine Sohrabian, who landed the Rodarte summer internship, found inspiration in "distortion of shape, obscurity and a play on unconventional fabrics," such as latex paired with metallic tweed, for her collection of asymmetrical and oversized pieces. Sohrabian worked with jewelry/metal arts student Shuangning Sici Li, who used silver, resin and cement to create jewelry to complement Sohrabian's designs.