As of Friday, May 20, 2016
Photo Gallery
CCA Collections on the Runway in San Francisco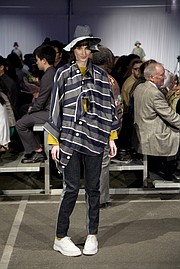 California College of the Arts hosted its 2016 annual fashion show on May 13 on the back lot of the design school's San Francisco campus.
The runway show featured the work of 12 senior designers, including Nicole Adames, who took inspiration in artist Paul Klee's hand puppets for her menswear collection made with wool and raw selvage denim. Rieko Cho used wool, lace and organza for her feminine collection inspired by clouds, dreams and childlike drawings. Caitie Dodge's collection featured textured knits that are "twisted and mixed to reveal hidden patterns." Moises Estrada found inspiration in World War II female pilots for his collection, which featured military strapping, denim and ponte di roma knits. Sophia Lemos used knits, crepe and gauze for her collection, which was inspired by 1930s Constructivist art and architecture. Jiyun Moon combined origami with Korean street fashion and skateboard culture for a menswear collection made with recycled materials and splashes of color.
Inspired by Alphonse Mucha's painting "Rose," Elina Xie's bridal collection features nontraditional fabrics, laser cutting and embossing techniques mixed with hand beading and embroidery.
The voluminous shapes of Melissa Yanga's collection are meant to recall a blooming lotus bud steeping in a teapot. Yanga paired naturally dyed silks and linens with fasteners made from shell and horn for a collection of classic silhouettes laser etched with botanical images and motifs based on the designer's own tattoos.
Caroline Chun was inspired by a man's misbuttoned shirt to create her collection, in which she deconstructed traditional silhouettes to create an "askew" collection of pieces that could be worn multiple ways.
Titled "Fin de Siécle," Wenxin Zheng's collection explored unconventional beauty standards using layers of diaphanous and matte fabrics in silhouettes that play with proportions.
Kristi Pak reworked the fisherman's sweater with a collection that layered chunky, textured sweater knits and paired them with heavyweight suiting fabrics in draped and tailored silhouettes.
Tiantong Zhou's collection of layered pieces in stark architectural silhouettes was softened by warm, textured wools and soft knits.