As of Thursday, May 19, 2016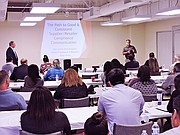 At a recent event in Los Angeles, Stage Stores executive Kenneth J. Lettre offered some words of advice for avoiding chargebacks. During the Q&A session, Lettre, Stage Stores' vice president of vendor compliance and relations, got to hear real-world examples of manufacturers' experiences shipping the Houston-based retail chain.
One company discovered it was getting chargebacks for putting the price ticket on the wrong part of the garment. The manufacturer thought the garment was a sweater but later discovered Stage Stores thought it was a vest.
Lettre's advice was to "always ask questions before you ship. When in doubt, send me a photo."
Lettre's presentation, titled "Path to Good and Consistent Supplier/Retailer Compliance Communication," was part of an A/R and chargeback management seminar organized by Robert Prather, president of Deduction Management Services, and held in partnership with Los Angeles–based software solutions firm AIMS360.
The key to avoiding chargebacks is good communication between the retailer and the supplier, Lettre said.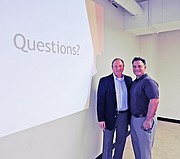 "We're expecting you to comply; that's our goal at Stage Stores," he said. "We want you to comply, and if you have questions about requirements, we want you to ask."
The first step, Lettre said, is to read Stage Store's compliance guide, which the company has posted on its B2B site at www.gxs.com/stage. The company updates the guide twice each year and highlights the new changes to make it easy for suppliers to review.
Lettre said another mistake vendors make is assuming all retailers have the same shipping requirements. "Do not assume," he said. "The suppliers will say, 'Macy's does it like this. So we assumed Stage Stores did, too.'"
Stage Stores will send email alerts to vendors notifying them about a shipping violation. The retailer gives vendors the option to include as many people as they want on the email alert. The email includes a link with details about the violation, including comments and/or photos.
"The reason for the guide is easy," Lettre said. "We want consistent presentation on our sales floor as fast as we can. I would rather not charge back anyone anytime. Anytime I charge back it causes me more work."
Stage Stores also keeps a compliance data score card for each supplier with up to 2½ years of past approved violations, Lettre said.
"We would rather you have zero charges," he said. "If you're going to have one, it should be one and done."
There's also a window for disputing chargebacks.
"Compliance violations are not like fine wine. They do not get better with age," Lettre said. "Our compliance guide says you have two months to respond. That's why we send you emails. We want you to see it and correct it on the next shipment."
And if a company decides to dispute several chargebacks, Lettre said, "Do the compliance department a favor" and consolidate everything into a single email.
On the rare occasion a vendor simply cannot comply with the guide, Lettre said to contact the company.
"We have to create a guide that's one size fits all," he said. "If there's an item you say you cannot do, give me a call."
Lettre also suggested vendors schedule a visit to Stage Stores' distribution center.
"You get to see the reasons why behind the compliance guide," he said. "We want to have product waiting to go out on the floor. What we don't want is a box that looks like it was run over by a truck."
The event was held on May 10 in Suite C855 at the California Market Center. In addition to Lettre, Prather discussed the essentials of chargeback management—including proper posting, interdepartmental cooperation and best practices—for shipping, logistics and packing. Edwin B. Siegel, a senior partner with the law offices of Siegel & Siegel, and Stephen F. Moss, senior vice president and manager of Network Commercial Services, talked to the crowd about the litigation process in California and out of state, when to extend credit, and when to forward a delinquent account to collections. Scott Allen, director of training for AIMS360, discussed ways to use Web-based ERP (enterprise resource planning) technology to handle accounts receivables and avoid chargebacks.