As of Thursday, November 10, 2016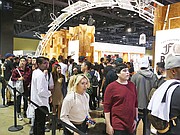 The inaugural ComplexCon event in Long Beach, Calif., mixed fashion trade-show exhibition business with comic-convention fandom during its Nov. 5–6 run, when the novel arrangement made some of the event's vendors wonder if this angle on a trade show could turn into a new revenue center.
It took place at the Long Beach Convention Center, where an estimated 25,000 people bought tickets, which started at $45, to shop the booths of streetwear and high-end sneaker brands, view art, and dine at food trucks, along with catching hip-hop acts and listening to speakers on panels discussing everything from fashion to music, political activism to education.
Prominent and emerging fashion brands took booth space, which ranged from major productions resembling department store windows to simple 10-by-10 booths. Vendors included Nike, Adidas, G-Star, Undefeated, Alpha Industries, Billionaire Boys Club, Staple Pigeon and Surf Is Dead. Retailers such as Pacific Sunwear of California and Urban Outfitters also produced pop-up shops at the event. Musician and fashion influencer Pharrell Williams unveiled his Elwood X25 Collection for G-Star at the show. ComplexCon events took up the entire space of the convention center, show producers said.
Since it was the first run of an event with a unique arrangement, no one knew what to expect or how much inventory to take, many vendors said.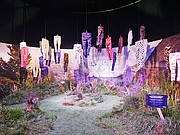 "We don't have anything left," said Matt Waterman, director of Champion Athletics, who was displaying the Spring 2017 looks of the Champion Life brand at ComplexCon. "We could have sold a lot more."
Flagship Agency's Chris Josol represented Surf Is Dead at ComplexCon. "No one questions if it is too expensive," he said of the crowd. The brand was selling $60 T-shirts and $120 jackets.
Many vendors said the event promoted a direct-to-consumer style of business.
"The people engage with the brands. The brands engage with the people," Champion Life's Manny Martinez said. He also noted that nationally known specialty retailers and boutique retailers also visited the booth, and they got to view the brand's new looks in a space patronized by consumers.
Another vendor, Adam Ahdoot of Flagship Agency, said that the show's crowds were a sign that trade shows should pay more attention to consumer business.
"The smartest thing to do is to create a day that is open to the public and engage with your end consumer and bring them into the experience instead of pushing them farther away," Ahdoot said.
Michael Mente, a cofounder of the e-commerce emporium Revolve, walked ComplexCon to see how it could possibly affect retailers. He thought retailers had to think through how they would work at such a unique show.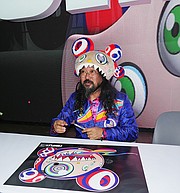 "As a retailer, you can represent a lot of other brands well, but you have to make sure that you represent your brand well," he said.
Reed Pop, a comic convention–producing division of Reed Exhibitions, put together ComplexCon with Complex, a media platform that runs a print magazine, social media and YouTube channels. Complex was founded by Marc Ecko, who also is well known to fashion people as the founder of Ecko Unltd. Aaron Levant, founder of the Agenda trade show, which is owned by Reed, helped create the show. Axis, a women's trade show created by Agenda, produced a sub-show at ComplexCon.
"This is Art Basel, Agenda and TED," Levant said of the mix of art fair, fashion trade show and panels. He said that the success of ComplexCon would not affect Agenda and that Agenda would remain an event that is open to the trade only. Agenda is an event that runs biannually in Long Beach, Las Vegas and on the East Coast.
Hip-hop performers and dance DJs also took up a huge chunk of the audience's attention. Veteran rapper Snoop Dogg performed at the event on the night of Nov. 6. Grammy award–winning DJ Scrillex headlined ComplexCon's concert on Nov. 5. Hip-hop acts and DJs also performed on the show floors at ComplexCon.
Long lines of art fans queued up for a meet and greet with contemporary artist Takashi Murakami at ComplexCon. The Japanese artist has curated gallery shows at the Museum of Contemporary Art in Los Angeles and is well known to fashion people for collaborations with Marc Jacobs and Louis Vuitton.
During the show, Ecko led a panel called "The Future of Our Schools: An Urgency for Change." Laurene Powell Jobs, the wife of Apple cofounder Steve Jobs, spoke on the panel along with personalities Vince Staples, Pusha T, Russlyn Ali, Jesse Williams and Hill Harpor.