As of Tuesday, November 15, 2016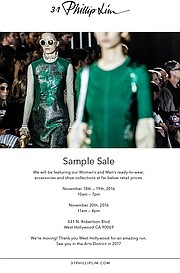 Phillip Lim is hosting its annual sample sale Nov. 18-20 at the 3.1 Phillip Lim boutique in West Hollywood.
In the past, this sale has been held at the Cooper Design and the large crowd of shoppers snakes around the block. So go early and prepare for crowds.
It looks like the sale is also a good chance to take a last look at Lim's Robertson boutique. The invitation says the store is moving to downtown Los Angeles' Arts District next year. The West Hollywood store, located at 631 North Robertson, opened in 2008.
Word on the street in the Arts District is that the company is taking a 1-year lease to test the neighborhood and will be located next to the Umami Burger on E. 3rd.