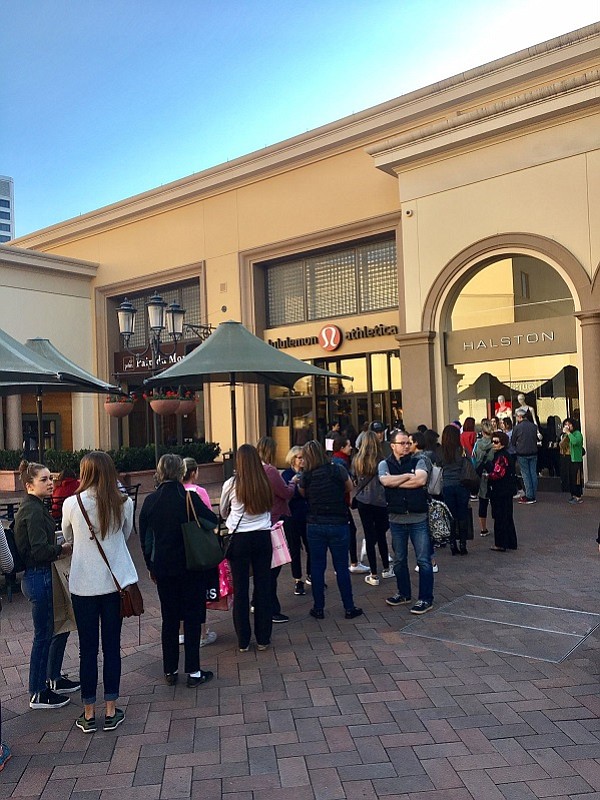 Black Friday Shopping Up, Deals Abound
More people shopped on Black Friday, but spending per person was down, according to the National Retail Federation trade group, headquartered in Washington, D.C.
Surveys taken by the trade group over the Thanksgiving weekend, the traditional start of the Winter Holiday shopping season, found that 154 million people shopped for gifts during the weekend, up from 151 million who shopped during the 2015 Thanksgiving weekend. However, the NRF survey also found that average spending per person dipped. During the Thanksgiving weekend, average spending per person was $289.19 compared to $299.60 during the 2015 Black Friday weekend.
Jack Kleinhenz, the NRF's chief economist, said spending declined due to heavy discounts offered by retailers. The big promotions were offered across the board by all retailers, he said in a Nov. 27 conference call with reporters. The NRF survey found that 36 percent of Black Friday shoppers bought 100 percent of their purchases on sale, compared to 11 percent who bought their all of their purchases on sale during Black Friday 2015.
During the recent Black Friday, Macy's department store offered doorbuster deals that ranged from 25 percent to 75 percent off of full price. Deals continued on Cyber Monday, the first Monday after the Black Friday weekend, when consumers traditionally start shopping online. For Cyber Monday, Target offered 15 percent off of purchases made online and in stores.
At the Fashion Island retail center in Newport Beach, Calif., retailers that typically do not offer deep discounts, spent the Black Friday weekend offering sales, said Christine DuVall, senior director of marketing for The Irvine Company, owner and operator of Orange County malls such as Fashion Island, Irvine Spectrum and The Marketplace. The Fashion Island Anthropologie store featured 30 percent off some items. Across the mall, 7 for All Mankind took 50 percent off of some items. BCBG took 50 percent off the entire store.
Those retailers who generally give discounts sought to offer bigger savings during the shopping weekend. At Citadel Outlets near downtown Los Angeles, retailers have built a reputation offering goods 20 percent to 60 percent off of retail price. But on Thanksgiving and Black Friday, many retailers were offering 50 percent to 70 percent off of outlet prices, said Chelsea Hartnett, director of public relations for Citadel Outlets.
Despite the heavily promotional environment, retailers are still forecast to make profits this holiday season, Kleinhenz said.
"There were no surprises this weekend for retailers. Because they take the time to plan it, they plan it with margin in mind," he said. "In a perfect world, all retailers would sell everything at full price, but the era of promotional sales is with us to stay, the challenge for retailers to create experiences that will bring consumers back and make products that will allow them to promote and make margins."
NRF surveyors also found that 43 percent of Black Friday weekend consumers shopped online, while 40 percent said that they shopped in physical stores. Consumers jumped from shopping channel to shopping channel during the weekend.

"They are not mutually exclusive," Pam Goodfellow said. She is the principal analyst for Prosper Insights and Analytics, the group that conducted NRF's surveys. "Shoppers shop throughout formats, and shopping online is not entirely rooted in pure play retailers," she said of e-retailers that do not run physical stores.
Many consumers have not started holiday shopping, NRF's Black Friday survey found. Only 9 percent of consumers have wrapped up their holiday shopping, which is down from 11 percent who completed their holiday shopping on Black Friday in 2015, said Matthew Shay, the chief executive officer and president of NRF.
"With mid-season shopping behind us, it's not too late for retailers to tweak their online and in-store strategies to help increase traffic and see a big payoff during the last few weeks of the holiday season," Shay said in a statement.
RELATED STORIES