As of Tuesday, November 29, 2016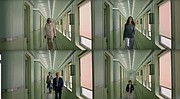 To get people in the holiday mood, H&M enlisted Academy Award-nominated filmaker Wes Anderson to create a short film fill with Anderson-esque elements mixed with a bit of Christmas cheer.
Titled "Come Together," the film (dubbed "a fashion picture in motion") stars Adrien Brody and features the John Lennon classic "Happy Xmas (War is Over)"
No doubt the characters in the film are decked out in items from H&M's current collection, but there's no hard sell here. If anything, the entire short looks like a mini Anderson feature to tide people over between films. Anderson's last release, "The Grand Budapest Hotel," came out in 2014.