MANUFACTURING
VF Corp. Names a New CEO to Take over for Eric Wiseman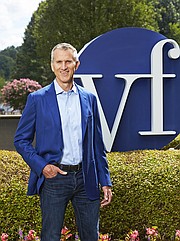 VF Corp.—the 118-year-old company whose brands include Vans, Wrangler, Lee and, until recently, 7 For All Mankind—has appointed Steve Rendle as its new chief executive, effective Jan. 1.
Rendle, who has been with VF Corp. for 16 years and currently serves as its president and chief operating officer, will be replacing Eric Wiseman, who is stepping down after nine years as chief executive but will continue to serve as executive chairman of VF's board of directors. Wiseman will be working with Rendle to make sure the transition is smooth.
Rendle, who will keep his title as president, has been overseeing all of VF's business coalitions worldwide, which include outdoor and action sports, jeanswear, imagewear, and sportswear.
In his new job, Rendle will be responsible for VF's strategic direction, its near- and long-term growth plans and day-to-day global operations. "We've been working since 2008 to identify and prepare the right person to succeed me when the time comes. That time is now," Wiseman said.
Rendle has more than 30 years of experience in the outdoor and action-sports industry with 16 of those working at VF Corp. From 2004 to 2011, he served as president of The North Face brand after having begun his career with that label in 1999.
More recently, Rendle was vice president, VF Corp., and group president for Outdoor & Action Sports Americas.
Rendle received a bachelor's of science degree in kinesiology from the University of Washington. He serves on the board of directors of Advanced Functional Fabrics of America Inc., which is working to enable a manufacturing-based approach to transform traditional fibers, yarns and fabrics into highly sophisticated, integrated and networked devices and systems.
VF Corp.'s other major brands include Timberland and Nautica. The Greensboro, N.C., company had revenues in 2015 of $12.4 billion.