MANUFACTURING
Surfer Jessie Snyder Branches Out On Own With Fitness Line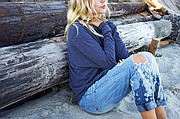 Jessie Snyder is using her experience as a professional surfer to leverage her newest venture, an eponymous line of basics.
Snyder is using custom fabrications and comfortable fits to offer tops, briefs and leggings that resonate with the Southern California lifestyle.
"I am ecstatic to start my own brand," Snyder said. "I am taking what I learned from my first brand and starting fresh."
This is not the first foray into activewear for the Southern California native, who grew up on the beaches of Los Angeles. Previously she founded the apparel line Mint, which is carried in 150 stores in the U.S., Japan and Canada, including 12 Equinox locations.
Equinox's fitness-studio store will offer an exclusive "Equinox x Jessie Snyder" thermal top, which will be carried at all 74 national locations and will retail for $82.
"Our female members are looking for easy styling, items she can wear on her way to the gym, as well as after when out with friends," said Karyn Riale, Equinox director of retail buying. "Jessie Snyder gives us this quality, along with great fabric and fit. Because of these attributes, partnering with Jessie was an easy decision."
With custom-designed fabrications, the Jessie Snyder collection is headquartered and manufactured in Los Angeles.
"Being that I am fourth generation from LA, it has always been extremely important to me to manufacture everything start to finish right here," Snyder said. "My factory is a few blocks from where my great grandmother worked in the 1920s."
Jessie Snyder has set up an e-commerce platform through her website (www.jessiesnyder.com) and offers tanks for $58, the signature thermal top for $82, briefs for $45 and leggings retail at $78. For more information, visit www.jessiesnyder.com.