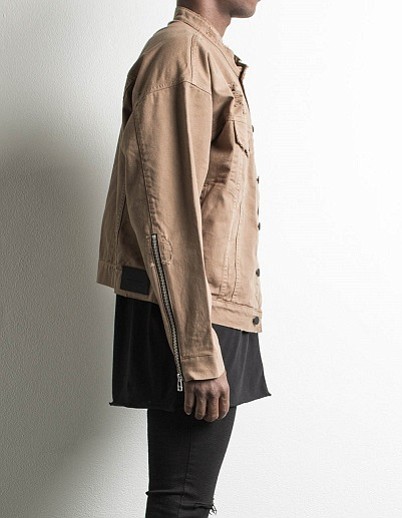 DANIEL PATRICK
Daniel Patrick X T Raww 2016: Making Jeans With Hip-Hop Star Tyga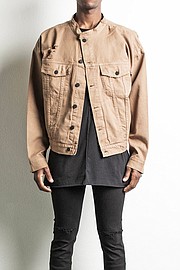 When designer Daniel Patrick expanded his eponymous streetwear label to include jeans, he wanted to steer clear of the traditional five-pocket style.
"Jeans are jeans … but every jean has its own shape, and it's always a work in progress," he said.
Instead, he made jeans the Daniel Patrick way. The pants have drop crotches. Despite current trends calling for loose jeans, Daniel Patrick jeans carry a slim fit.
The jeans work with the Daniel Patrick style, which the designer calls high-end, minimal streetwear. Fans included Tyga, the hip-hop star and paramour of reality TV star Kylie Jenner.
Daniel Patrick and Tyga worked on capsule collection Daniel Patrick X T Raww 2016, which was released last month. It is sold at online emporium Revolve as well as at Daniel Patrick's bricks-and-mortar boutique on Los Angeles' Melrose Avenue and his label's website (www.danielpatrick.us).
Buttons on the Tyga collaboration jeans bear a "T" in honor of the music star's name. They bear a strap on the left side of the pant. "It's a nylon webbing strap; it's almost that you are wearing a military belt," Daniel Patrick said.
Keeping with an aesthetic that bridges the minimal with the alternative, the jeans come in a couple of colorways—but not denim's ubiquitous indigo blue. Rather they come in black and "natural," which Daniel Patrick describes as an off-white. The Tyga collection pants retail for $300. Denim in the main line ranges from $225 to $275. The Daniel Patrick label also makes denim jackets for men. Along with the jackets being oversize, not form-fitting, they also bear a round military-style collar.
In 2017, the Daniel Patrick label will expand the denim category to its women's division. The label is also on a retail roll. In April, it opened a boutique on 7967 Melrose Ave. by the intersection of Melrose and Fairfax avenues in Los Angeles. Next month, the label is scheduled to open a 1,700-square-foot store in Manhattan's SoHo neighborhood.
"When I went shopping, SoHo was my favorite place to shop," said Daniel Patrick, who grew up in Sydney, Australia. "Melrose was my first taste of fashion in Los Angeles."